This year for some reason my pool would not clear up.  No matter how many times I tested the water and added what I was told to add, it was still cloudy.  Part of the problem in the beginning I'm sure was the fact that it needed a really good vacuuming.  But with it being so cloudy, it was hard to get all the junk off the bottom of the pool.  You can't vacuum what you can't see.
My husband was always in charge of taking care of the pool so this year is really the first  year I've tried to do it myself.  He's ill and can't be in the sun much so it's all in my hands.  I've had some friends help but they could not devote the time I needed to get it clean.
Honestly, I had no idea what a huge chore the pool was until I had to do it myself.
Last week before I left for a press trip, I worked every day on the pool to get it ready for the girls to swim while I was gone.  It was a huge part of the beginning of the week.  I was so happy before I left to see it was almost cleared up…. almost.
This morning when I went outside to visit my garden and check on the pool I was so excited that I could see down to the bottom of the pool and all the dirt left.  While there was more than I expected, it was exciting to see it.  The water was crystal clear and all I needed to do was vacuum the bottom and it was good to go.
This afternoon,  the girls were able to enjoy the pool and it was pretty hot so perfect timing.  They love jumping in the water and searching for treasures at the bottom of the pool.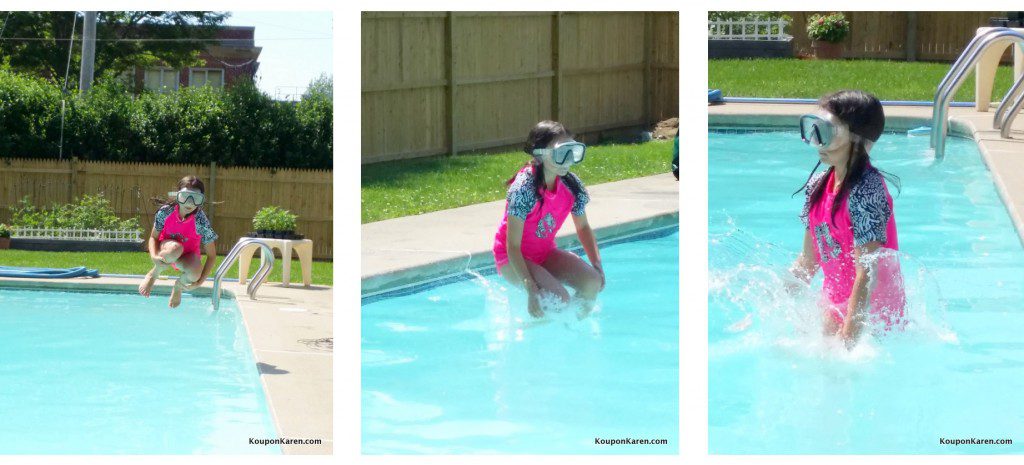 Those are pictures of my littlest one enjoying herself, finally!  Now that the pool is clear and in use, that is where you'll find them each day this summer.
Fried Ice Cream Summer Dessert Recipe
Where will I be?  Besides watching them while in the pool, of course, I'll be working on some fun summer treats.  They will be building up their appetites from swimming all day.  So how about some  "Fried" Ice Cream made with Honey Bunches of Oats?!
We always have cereal in the house and I love finding other uses for it besides just breakfast (or lunch or dinner – come on, you know you've done that!).   If you have Ice Cream in the house then you may want to try this recipe this summer.  The kids are going to love it!
Fried Ice Cream with Cinnamon-Chocolate Sauce
Prep Time: 30 minutes
Total Time: 1 hour 30 minutes
Serves 4, 1 ice cream ball each
Ingredients
Fried Ice cream:
1 cup Honey Bunches of Oats Almond cereal
1/2 cup shredded coconut
1/4 teaspoon chili powder
1 Tablespoon vegetable oil
2 cups vanilla ice cream
Cinnamon-Chocolate Sauce:
1/2 cup semi-sweet chocolate chips
3 Tablespoons heavy cream
1/2 teaspoon cinnamon
Directions
Place cereal in a medium bowl and lightly crush with your hands or the back of a wooden spoon.  Add coconut and chili powder and combine.
In a large skillet, heat vegetable oil.  Add cereal and coconut mixture and fry until it is golden brown and toasted, about 5 minutes.  Remove from heat and cool completely
Using a 1/2 cup measure, scoop ice cream and quickly form balls with your hands.  Place on a small try and immediately return to the freezer for at least 30 minutes or until the balls are firm.
Remove ice cream balls from freezer and quickly roll each ball in the cereal and coconut mixture.  Return to freezer for at least another 30 minutes or until the balls are firm again.
When ready to serve, combine the chocolate chips, cream and cinnamon in a microwave safe bowl and microwave for 30 seconds.  If the chips are not completely melted, stir and microwave for an additional 30 seconds.
Serve each fried ice cream ball with a drizzle of cinnamon-chocolate.
The kids loved it!  We made two batches and used vanilla ice cream in one and chocolate ice cream in the other.  They both came out great.  The crisp sweetness from the Honey Bunches of Oats Almond cereal complimented the ice cream so well and this was really easy to make.
What do you think?  Will you make this??