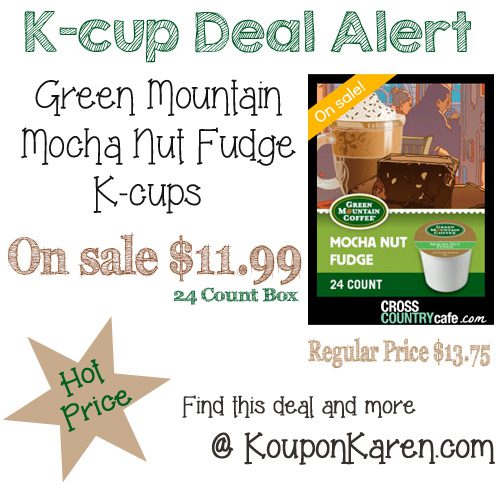 Green Mountain Mocha Nut Fudge K-cup Sale

Do you like a little chocolate flavor in your coffee?  If so check out this sale!  Right now at Cross Country Cafe you can get Green Mountain Mocha Nut Fudge K-cups for $11.99 for a Box of 24!  Mocha Nut Fudge is a decadent pairing of chocolate and coffee layered with roasted nuts and a ribbon of sweet caramel.
Sounds good, right?
Cross Country Cafe also has the following items on sale this week:
Twinings English Breakfast Tea is on sale for $9.99 per box of 24
Green Mountain Vanilla Keurig Kcarafe coffee is on sale for $7.99 per box of 4
Central Park Decaf Nespresso compatible coffee pods are on sale for $4.99 per box of 10
Check out the sale… HERE.  And when you spend $59 or more shipping is FREE!  So grab a friend and place an order!