10 of My Favorite Back To School Lunch Ideas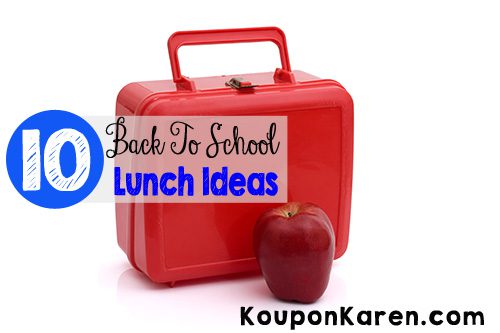 Are you in need of some Back to School lunch Ideas?  Because I am.  I seriously can not believe I'm about to say this – school starts this week!!  How about you?  Did the summer fly by as fast for you as it did for me?  Because I feel like I was just there the last day of school, wishing everyone a happy and fun Summer.  Now I'll be there in like a minute, asking everyone how there summer was.  CRAZY.
Next week we will be getting back into school mode.   The girls will be getting up a little earlier to get ready for the mornings, we'll run through the morning routine a few times to get them back to thinking about actually doing things in the morning.  And we'll head to bed early towards the end of the week, to get them back on their normal schedule.
And I'll start thinking about lunches.  It's easier to put together lunches for them when I can make it and they eat it right away in the summer.  But with school lunches, I have to plan ahead a little better and come up with ideas that they don't need a microwave for.  Because I don't know about your elementarily school, but mine doesn't offer to heat up lunches for the kids.  LOL
My kids don't have a very big palette but they do have enough of a variety of likes that when I really think about it, I can come up with something different and fun so they don't have the same old thing every day – turkey sandwiches and PB&J.
Here is a list of 10 of My Favorite Back To School Lunch Ideas that I know my kids will love.   Since I don't normally mix it up much, my goal this year is to do at least one of these fun ideas a week.  Then eventually I'll have my new go-to lunch ideas.
10 of My Favorite Back To School Lunch Ideas
Pizza Muffins – I could really have fun with these and include different toppings on each pizza!  Then they both get what they like.  And they don't need pizza to be vary warm.  If I heat them in the morning and wrap them in foil, they'll still be a little warm to eat at lunch.
Chicken Cordon Bleu Wraps – I can't believe I've never, ever thought of doing this.  My oldest will love this and I can't wait to make it for her.
Ham & Cheese Sushi Rolls – You could do this with any meat and cheese. Love the idea and my kids would too!
Nutella Waffle Bite Sandwiches – My kids will eat anything with Nutella on it!
Homemade Fruit Jello Cups – We make jello all the time and this will be a fun treat for them to find in their lunch box.
Banana Dogs – I totally love this idea. My little one enjoys banana and peanut butter sandwiches so I know she'd love this!
Corn Dog Muffin Bites – They love corn muffins and they love hot dogs so this is perfect for us!  And I can make a bunch ahead of time and freeze them!
7-layer Dip Cups – You could make this in a small bowl with a lid and pack some whole gran nachos. A fun lunch that can be very nutritious!
Peanut Butter & Jelly on a Stick – Brilliant idea!!!
PB&J Blossoms – Just another twist on a favorite of ours PB&J
What do you think?  Let me know if you have something else fun to add to my Back To School Lunch Ideas list.  I'd love to hear them.