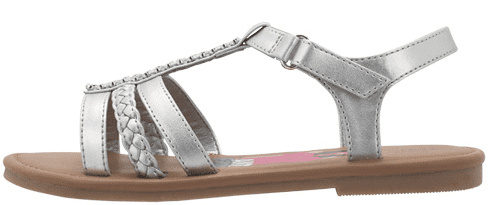 Payless is having a sale and you'll save $10 off a $25 purchase online and you can have it shipped to a local store for FREE. Otherwise it's a flat rate of $5.95 to ship. Still not a bad deal.  Just use coupon code 68537 to receive the $10 discount!
We tried to find my oldest daughters pretty silver sandals this weekend, but we have no idea where they went since the last time she wore them, which was last summer. I think they are at the way bottom of her dress up box, but she says she looked there and they aren't there. She had a mini melt down and then found another pretty pair of shoes that will do, for now. LOL
So it looks like we need a new pair of pretty silver sandals so I'm excited about this sale! These A.N.T Farm sandals are almost exactly like the ones she has somewhere and they are on sale for $14.99 (regular price $24.99).  I got two pair – one for each girl, and it cost less than the price of one pair would cost full price.  I got them both for $19.99 shipped to my local store!  That's my kind of deal!
Click HERE to shop at Payless.
thanks She Saved!