Pinterest, Pinterest, Pinterest.  It's what everyone is talking about.
Pinterest is the place to hang out.  It's where all the cool kids hang… or the cool moms.  It's the place to get great ideas, to learn new DIY skill's, to get inspired, to find great recipes (and sometimes bad ones),  and to waste a lot of time.  Haha.  Seriously I am sure you've all wasted time getting sucked into Pinterest at least once or twice.  I know I have about 100 times a week.
But that's not so bad.   Pinterest inspires me to do things, to make things, to try things and to blog sometimes too!  I get ideas and think to myself (being a blogger that is) "I can do that too and I can blog about it!".  I have a list of things I want to do and blog about and I will get it them.  And all thanks to Pinterest.
When my cousin got married and she asked me to be her maid of honor she turned to Pinterest and found some really cute ideas including a nice card she gave me asking me to be a part of her special day.  I loved it!  When I asked her where she found something so unique, she said Pinterest – of course!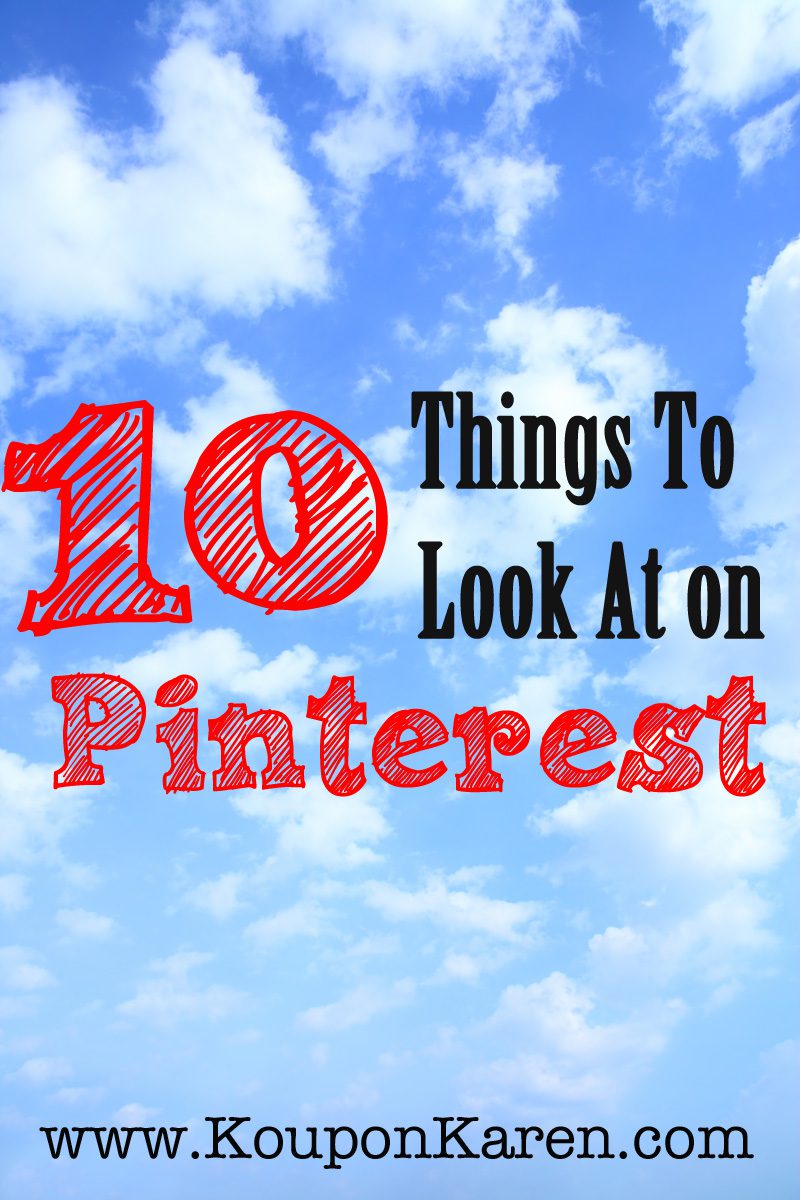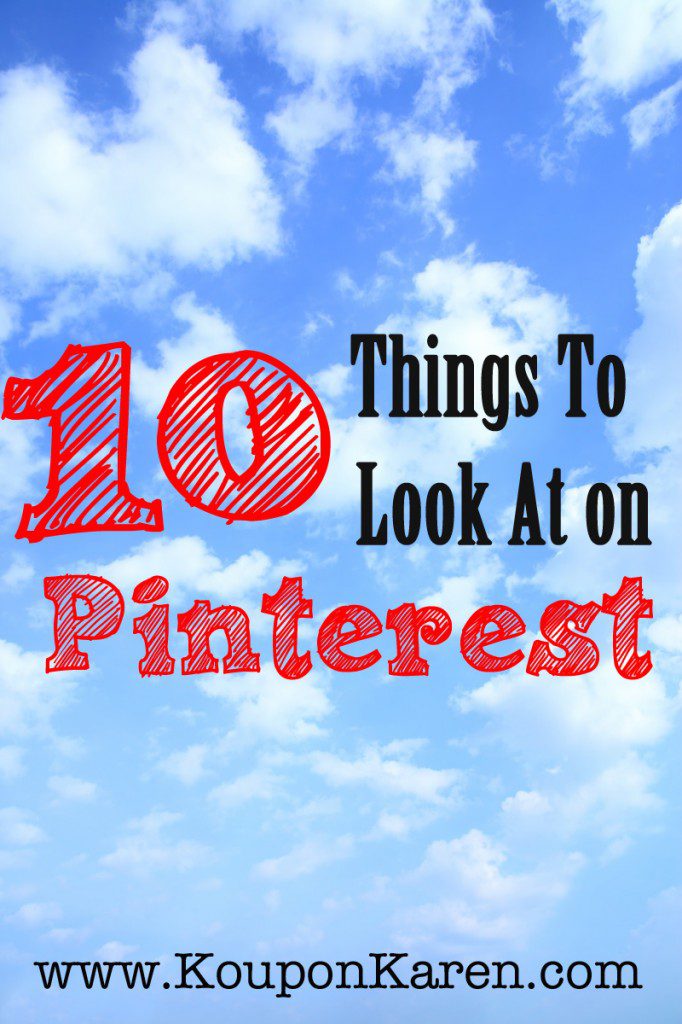 10 Things to Look At on Pinterest
Recipes
I get a lot of inspiration to cook from Pinterest. Now granted, I don't cook everything I want to after seeing it on there, but I do print out recipes and file them for someday.  And then some things I do make right away and my family thanks me for it.  It's just so much easier than pulling out my pile of recipe books (that I'm not sure why I still have) and looking through them.  Its quick, easy and the pictures are inspiring.  Search for recipes if you are just looking for new ideas or specific recipes like "chicken recipes" or "low-calorie recipes".
Home Decorating Ideas
I wish I had a knack for decorating, but I don't.  I'm not very creative and I really believe that is the key to decorating.  I'm also not organized and that plays a part as well.  So when I'm looking for ideas to decorate my home, I surf Pinterest….. and then I want a new house.  LOL  Search for "decorating ideas" or more specifically for a specific room.  You'll find ideas from furniture, to painting, to wall hangings and even ideas for those on a budget!
Themes for Kid's Parties
My kids are still at the age where they like to have themed parties.  But seriously, buying all that stuff costs more than their presents do sometimes.  Pinterest is FULL of great ideas for kids parties that you can do your self, along with tons of printables to help offset the cost, while stilling having that theme that they love!  Search for "kid parties" and you'll find inspiration for food, table scaping, party favors, games and even invites and thank you notes!
Organizing Ideas
I mentioned above that I'm not organized, but I strive to be EVERY. SINGLE. DAY.  And someday, I believe I will be, once I find something that works for me.  And sometimes I have the tools in my home to become organized, I just don't know how to use them.  So I turn to Pinterest for some ideas and I always find something.    Search for "organizing Ideas" or a specific area like "organizing a closet" and you'll find things like creative home office organizing ideas, how to organize legos, shoes and also Dollar Store ideas if you are on an organizing budget!
Crafts
My girls love doing crafts but like I said before, I'm not very creative. However I do love to scrapbook.   Crafts are a huge part of Pinterest and it's just so amazing looking at the ideas that people come up with.  I mean seriously how do they do it?  I have no idea but I pin what I like and maybe someday we will try them all.  Do a search for "crafts" or a specific craft idea or age group like "crafts for toddlers" and you'll find things like making Ombre Monogrammed letters,  Adding a Pop of Color to glassware, melted crayon art and even sensory crafts for toddlers and cupcake liner fish!
Weight Loss Ideas
I'm always looking to lose weight.  It's an ongoing battle for me and someday, I believe, I will be the winner of this battle.  I just know it!  But in the meantime, I get great ideas from Pinterest for exercises, meal plans, recipes and even pictures to inspire me to want to look better!   Do a search for "weight loss" and you'll find all sorts ideas like flavoring your water to help you drink more (love doing this!), rapid weight loss ideas, shopping lists and tons and tons of recipes that look so delicious from their pictures.  Yes, I just gained 7 lbs looking at the pictures!
Holiday Ideas
I love to decorate for the holidays and I like to change it up from time to time.  But again, I don't want to run out and buy all new stuff every year.  There are lots of DIY holiday decorating ideas on Pinterest that inspire to use what I have, in a different way.  It also gets me in the mood for the current holiday.  Do a search for either "holiday ideas" or the specific holiday you are search for and you'll see all sorts of things like crafts, gifts, decorating ideas and even recipes.
Printables
Pinterest is full of fun printables for every holiday and occasion to dress up a little gift.  It's also a great place to find printables to help you organize your home, reward charts for kids (and adults!) and even fun activities you can print out of the kids.   I like to turn to Pinterest on a rainy day when they kids say "I'm bored" for something for them to do.  And they love it as well.  Just do a search for "printables" and you'll find everything from charts, wall decor, home management, labels, letter and so much more!
Money Saving Ideas
I'm always looking for ways to save money.  And while there are lots of websites on internet about saving money (mine included) you can find them all on Pinterest.  Ideas that you may not have thought of to save a penny here and there, ways to help your children learn about saving money and so much more.   Just do a search for "saving money" and you'll see all sorts of ideas – saving for a big Disney Trip, Saving $1000 in one year, Tricks to Saving money and so much more.
DIY help
Pinterest is the place to go if you are looking for some DIY ideas – Do It Yourself.  From removing wall paper, to building things, painting, making homemade play-doh, kinetic sand and slime to cleaning impossible stains and knitting an infinity scarf.  You name it, you'll most definitely find it on Pinterest.  Do a search for either "DIY" or the exact thing you are looking to do yourself for miles and miles of inspiration, instruction and tutorials.  I like to look through these ideas to remind myself how "Unhandy" my husband and I are.  And dream of being able to do some of these things some days.
There is so much more to Pinterest than just these 10 things I mentioned.  Just search for whatever interests you and it'll be there, I'm pretty positive.   But don't just look, add to it because what you have to share, may be on the top of someones search list.  And if you are a blogger, it's a great way to get your site out there and to gain traffic, followers and even an income.
What do you like to Look At on Pinterest?