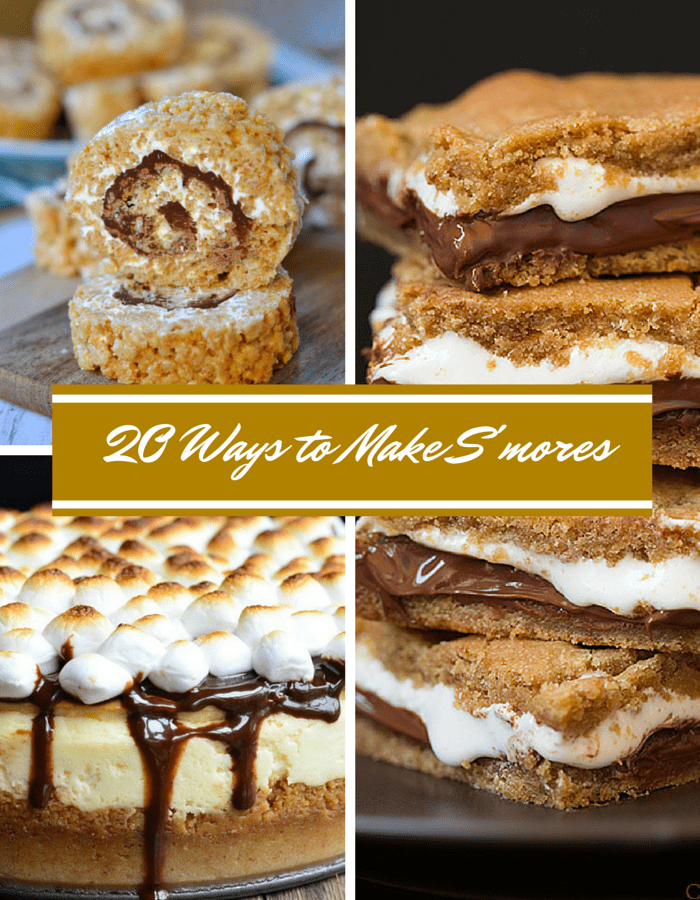 Camping is a staple activity throughout many months of the year.  Even in the cooler months.  Some people still set up those tents and rough if for a couple of days.  S'mores is a stable when camping or having a backyard get together.  You definitely don't need to be camping to make them.
Check below for 20 different ways you can make some s'mores goodness!
20 S'Mores Recipes to Make This Delicious Gooyieness
No-Bake
S'mores Pops | Tip Junkie – Get annoyed at the gooey s'mores getting all over your hand?  Try this pop recipe to keep your hands clean!
S'mores Truffles | High Heels and Grills – Creamy truffles are amazing by themselves.  But when you add s'mores ingredients in the middle, it makes them irresistible.
Trail Mix | The Sensible Mom – Want to take s'mores on the go?  Check out this recipe for taking that goodness along with you on your busy errands.
Dessert Trifle in a Jar | Mom Endeavors – Share the joy of s'mores by making this dessert at your next get together.  It will be sure to please!
Sinful Parfait | The Pinning Mama – Try this fancy way to make a s'more at your next fancy get together! Nobody will ever know it was so easy.
S'mores Rice Krispies Treats Pinwheel | Mom on Timeout – Wow, this pinwheel made of rice Krispies is super neat and easy to make! It's not as messy but it's something the kids are sure to love!
Triple Chocolate S'mores Bark | A Kitchen Addiction – Turn s' mores into a snack! Even though it's a dessert!
S'Mores Baked Goods
Baked S'mores Cups | Moms Need to Know – These don't actually look like cups but they look like small bowls that are just perfect for bite-size.
Pop Tarts | Handle the Heat – A breakfast treat in s'more form isn't going to be rejected by me!
S'mores Stuffed Pizza Cookies | Handle the Heat – This is for those days where you just want to eat something insanely sweet and satisfying.
Brownies | Creative Juice – Who doesn't love a classic brownie? Their fudgy goodness is so inviting which is why this recipe is just as pleasing!
S'mores Bars | Cooking Classy – If you've ever heard of blonde brownies, this a recipe that turns blonde brownies on its head!
Cheesecake | Will Work for Smiles – You can never go wrong with cheesecake. It's an addicting dessert as it is without adding that chocolate and marshmallow to the top!
S'mores Dips
S'mores Cookie Dough Dip | What's Cooking, Love? – Grab your favorite crackers and make this sweet delicious dip for yourself or whoever might be around.
S'mores Dip | Five Heart Home – Here's another version of a dip but this one has a lot more gooey marshmallow, I couldn't leave this recipe out.
Beverages
Hot Chocolate | Minimalist Baker – Hot chocolate is my favorite hot drink and when I found this recipe I was so excited.  You won't be sorry you tried it!
Iced Coffee | A Night Owl – Coffee and chocolate are a delectable mixture and it's even better when it's s'mores mixture!
S'Mores Recipes for Ice Cream/Popsicles
Popsicles | The Crafted Sparrow – Who says s'mores can't be cold instead of hot and gooey? This recipe says so!
Ice Cream | Julie's Eats and Treats – Here's another version of this treat that makes the cold twist on it a success!
Lower Calorie
Grilled Chocolate Banana Melt | Tablespoon – A healthier version of s'mores is probably a good idea since it's full of calories.  I enjoy eating every bite of those calories but this lower-calorie recipe is delish!
Which one of these gooey S'Mores Recipes will you try first?
Make sure you see all over other Dessert Recipes too!