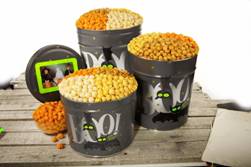 Product Name: Boo Bats Popcorn Tin from The Popcorn Factory

Product Information: October is National Popcorn Month, and with Halloween around the corner, what better time to celebrate our delightful treats! The Popcorn Factory has released a special "Boo!" Tin in celebration of the flavors of the season. Complete with a 3-Way combo of all-natural Butter, robust Cheese, and secret-recipe Caramel corn this little treat is sure to delight!
Product Price:  Prices start at $29.99.

My Thoughts: I received a Boo Bats Popcorn Tin that had caramel popcorn, cheese popcorn, and butter popcorn and they were all excellent!  Needless to say, they didn't last very long in my house!  It's a fun Halloween item that is sure to be loved by anyone who receives it.  And the tin is reusable, which is always nice!
Product Name: Plush Treat Pails from Cheryl's

Product Information: With the reusable Treat Pails, kids are sure to make the most of this Halloween.

Product Price:  Price varies.

My Thoughts: I received Ghost Plush Pail and an assortment of cookies for my review.  The plush pail is really ince and a very good size to fit lots of treats in!  The cookies were individually wrapped which I loved because I know they will stay fresh longer… if they last that long!
Disclosure: I received the same prize as the winner for review. My opinions are 100% mine.