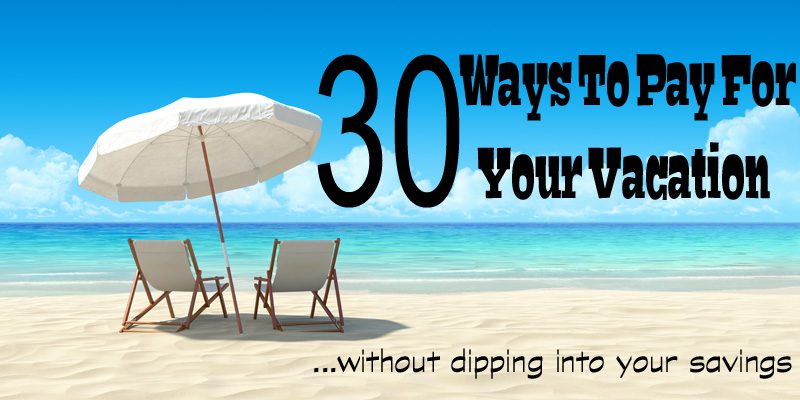 Want to plan a family vacation but you don't want to dip into your savings?  There are so many things you can do in a years time, to save extra money, that you could then use towards a vacation.
30 Ways To Pay For Your Vacation Without Dipping Into Your Savings
Get a short-term second job. By graduating with an online TEFL course you can develop an English language teaching side hustle!
Have a garage sale. Or two.
Make your own coffee one day more a week than you normally do.  That could save you up to $156 a year!
Don't eat meat twice a week. When we were kids, a trip to Europe was a big thing. I had a friend whose family wasn't wealthy and the way they saved up to go was by changing to powdered milk (instead of fresh).
Cut out the latte or specialty coffee. Instead, make coffee at home and bring it in a reusable travel cup. It's good for your wallet and the environment.
Pack your lunch – this can save you up to $1000 / year.
Get a short-term second job.
Stop buying name-brand toiletries and start buying in bulk. Costco has some great deals. Go with a friend and split the oversize packages.
Instead of buying that book or DVD, borrow it for free from the local library. Yearly savings: $200
Buy the least expensive gas. Generally, there's at least one gas station in town that's 10 cents less a gallon than the other stations. If you purchase 20 gallons per week, that's $104/per year.
Turn the lights off and unplug appliances that aren't in use. If you can't unplug the appliances, buy a Smart Power Strip which stops drawing power when the appliance isn't in use. The device will pay for itself within a few months.
Canceling gym memberships for the summer months- exercise outdoors instead- you can save $20+a month depending on the gym.
Get to your own bank for all your ATM transactions. Most foreign bank transactions are at least $1.50 per transaction.
As your light bulbs need to be replaced, put in compact fluorescent bulbs. They last longer and save $60 in electricity costs over their lifetime. That's PER bulb.  Some companies will even come and change all your light bulbs to more efficient ones for free.  Check your area.
Turn down the heat or AC. For every degree, you can save up to 5% on your bill.  Set a timer so it goes down in the evening while you sleep then goes back up in the morning when you wake.  And if everyone is gone during the day, turn it down again!  It will make a huge difference.
Set your washer to cold and save 50% of the cost to heat the water. Only partially dry your clothes and hang them to complete drying. Or put up a clothesline in the summer.
Book a package and shop for a deal. Bundling air, hotel and rental car will usually save over booking each individually. If you are flying in a large group, you can see about saving on private jet rental costs.  That could be super fun!
Really low on funds this year? Vacation close to home. You'll save on airfare and possibly hotel rates if you live in a tourist area. Many of us haven't visited the top tourist attractions in our own hometowns.
Consider camping. Although with budget cutbacks, reservations may be tough to get. Book early.
Consider staying in a hostel that offers private rooms for couples or families.  And if they have a kitchen that's even better.  Then you can cook most of your meals rather than eat out.  That is a huge cost when on vacation.
Consider house-swapping. Instead of paying a hotel bill, swap your house with another family and have all the comforts of home plus the added bonus of being able to save on meals.
Drop the land line. You can generally save at least $50/month. Most people have cell phones that they use all the time anyway.
Not ready to drop the landline? Can you live without caller id, voice mail, and call waiting? Typically these charges are $10, $20, or more per month.
Drop the premium channels or cable altogether. That adds up to another $50 or more per month.  But be careful because some companies offer you discounts the more you have and if you drop stuff, your bill may go up.
Cook at home more often. Eating out, even drive-through fast food, really adds up, both in dollars and calories.
Plan your meals to maximize the use of ingredients. Plan your grocery shopping and go as seldom as possible. You'll save by not buying impulsively. Shop your pantry before you go to the food store and see what you have for meals and just by what you need to complete them.  And only buy meats and veggies when they are on sale.
Most towns have a clipper magazine or entertainment book. Use the coupons to save on your meals.
Use coupons for grocery purchases, restaurants, and even travel.
Before you buy anything, go online and search for the "product" coupon code or promo code. Typically you can find savings from 5% – 25%.
Check out travel deal websites for free movies, coupons, last-minute sales, and jaw-dropping deals.
Happy Travels!