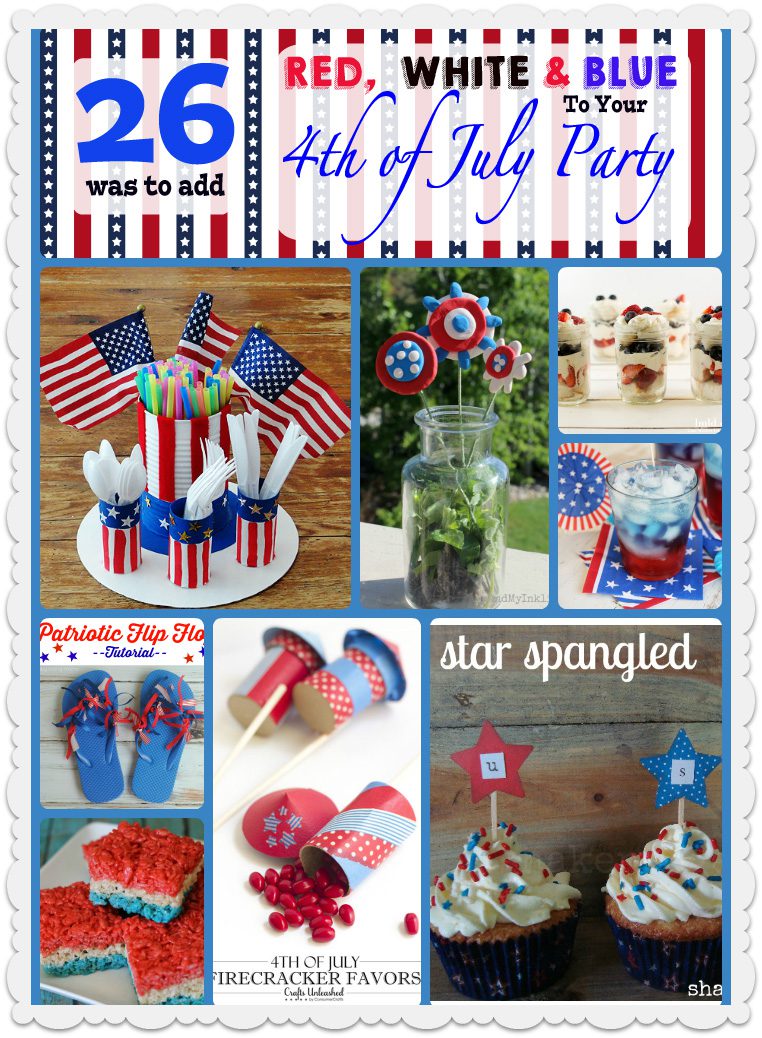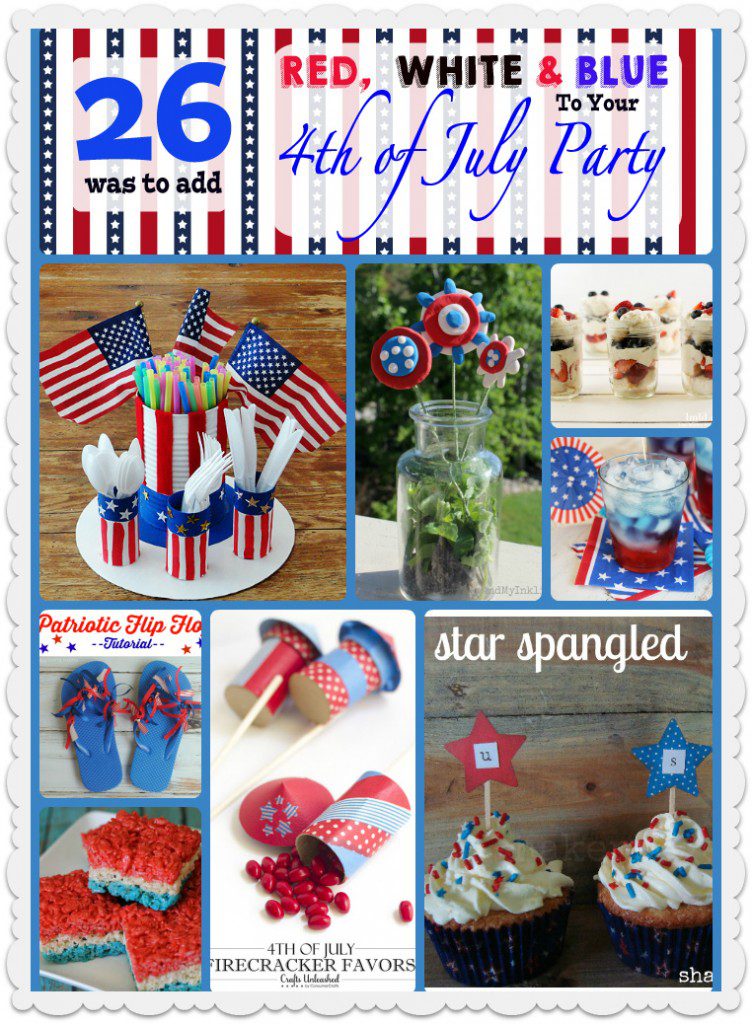 Add Red, White, & Blue to Your 4th of July Party
It's that time of the year to celebrate the beginning of summer and the 4th of July!  It'll be here before we know it so it's time to start preparing.  There is nothing I love more than the colors Red, White and Blue together – festive, colorful and bright!  If you enjoy a 4th of July party theme, check out these 26 ways to add Red, White & Blue to your 4th of July Party.  Also, a fun dessert the kids can help you make are these Red, White and Blue Jello Cups!
4th of July Decorations Ideas
The first thing you want to do is plan the decorations!  Here are some great DIY ways to decorate your party from the invites to the table!
First you'll need to send out invites.  Print out these cute yet simple Fourth of July BBQ Invitations .  Mount them on some red or blue card stock to add more flare!   The kids will love helping you make this Red White and Blue Tie Dye Tablecloth.  Use an old sheet or pick up some cheap ones at a discount store!  If you think the sheets are too monotonous, you can customize some custom embroidered patches, which can be customized with any pattern you want. The kids had so much fun designing the decorations for this party. With custom patches, the tablecloth becomes more colorful, the party becomes more colorful, and it also adds a bit of fun to design by yourself.
Want to dress up your table with a cute centerpiece?  Have the kids help you make these Patriotic Flowers With Sculpey Clay to dress up your tables!  After the party you can use them in other crafts!  If you are short on time or not very creative, try this Easy Patriotic Flag Centerpiece. Just pick up some flags at the dollar store and flowers from your backyard!   If you want something you can use over and over again, make these Patriotic Votive Candle Holders.  All you need is some modge podge to create a one of a kind candle holder!
How about making these Fourth of July DIY Star Streamers – At first look, it looks time consuming but its really not.  Your guest will surely be impressed when they year you made these streamers!  Don't forget about those utensils.  Don't just toss them in a cup, decorate it like this Recycled Patriotic Utensil Holder.  Have a little more time?  Then why not make these cute Americana Napkin Rings and put the utensils inside!  They are simple to make and a great craft for the kids.
For more inspiration check out these two sites:
4th of July Flip Flops
Right now you can find red, white and blue clothes in just about every store.  But you may not be able to find any footwear.  Dress up your feet with these cute Patriotic Flip Flops.  You can swap out the colored ribbon after the party for other events!
4th of July Food Ideas
Now it's time to plan some food!  There nothing better than Red, White & Blue themed foods and deserts on the 4th of July.  If you aren't skilled at color blocking food, check out the Studio DIY blog for Five Ways to Color Block Your Fourth of July Food great ideas!
Strawberries and the perfect perfect to use for a 4th of July party since they are red.  You can easily add white and blue to them to complete the look.  Check out these Patriotic Strawberries that will not only look great, but taste great too!   But don't stop there!  Try these Fourth of July Rice Krispies Treats  and turn a favorite treat into a festive dessert!
How about showcasing your food?  Stop by the craft store and pick up a bunch of different red, white and blue patterned scrapbook paper.  Craft those sheets using this Patiotic Hot Dog Tray printable and wow your guests with your creativity!
4th of July Dessert Ideas
I loving making cupcakes.  They are easy to make, the kids enjoy them and they are a low cost dessert.  To decorate them for the 4th of July holiday, check out these 5 Five Minute Patriotic Cupcake Toppers on Shaken Together blog and then head to Homespun With Love and check out the Vintage Fourth of July Cupcake Topper Printables.  Both would top your cupcakes perfectly for this holiday!
I love individual desserts and I'm obsessed with eating out of a mason jar!  Put the two together and make some Red, White, and Blue Trifle in a Jar.  It's really simple to make, but your guests don't have to know that!
Since it's usually hot at the beginning of July, why not make some Red, White, Blue Fruit Yogurt Popsicles to help everyone cool off!  I love that they contain yogurt which is so good for my growing kids!
4th of July Drink Ideas
You'll need to also cool off your guests with plenty of drinks.  If you are planning and adult party, try this Red, White, Blue Sangria !  I love Sangria anytime of the year so why not for the 4th of July!  For the kids you can make this Layered Patriotic Punch from Our Best Bites blog or try the Firecracker Punch from Sweet as  Cookie – or make both!
If you plan on putting out water bottles, make sure you dress them up first.  Not sure how to?  Here is a simple Patriotic Water Bottle that is decorated using Washi tape, which is really hot right now!!
4th of July Party Favor Ideas
Unfortunately at some point the party will end.  Let your guest go home remembering your fun party with these Party Favors.