I love baking at the holidays.  I make cookies…. and lots of them!  I took one year off from making them when my littlest one was very little and I was sorry that I did and I promised everyone that I would never do that again!  I love bringing cookie dishes when we visit friends and family and of course I love having them at home when we have visitors.
Walmart challenged me once again to see if I could make 4 baked good gifts for under $20.  So basically I had to stick to $5 a gift.  I was up for the challenge!  I planned what I would make and set out to shop at Walmart.
I made 4 different kinds of cookies two of them being my own recipes.  They were simple cookies that I make every year and everyone loves.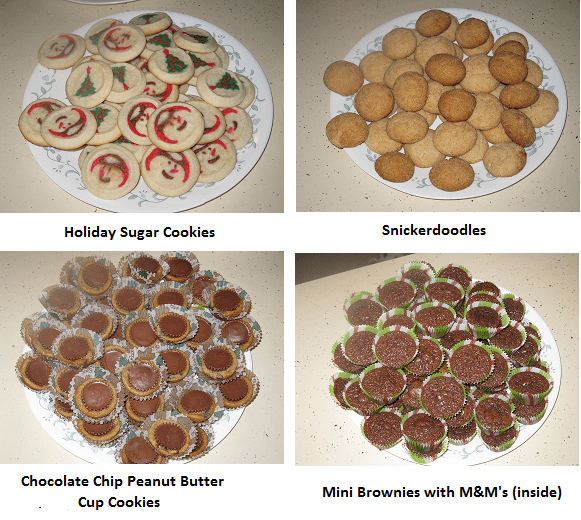 :: Holiday Sugar Cookies ( my 3 year old made them!)
Recipe: Buy box, open, put on cookie pan and bake!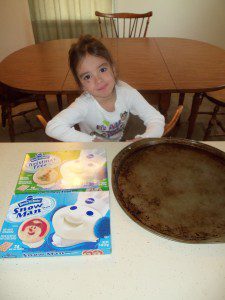 :: Snickerdoodles
Recipe: Can be found online at Walmart.com.
:: Mini Brownies with M&M's (I had them on hand so decided to toss them on top but the sank inside while cooking so they are really M&M Surprise Mini Brownies!).
Recipe:
Box of Brownie Mix
M&M's (optional)
Mix brownie mix according to manufacturers directions.  Pour into mini muffin pan (I recommend you use mini muffin liners too).  Drop a few M&M's on top (mine sunk inside this time but they don't always) and bake!  They will cook a little faster than the directions say so keep an eye on them.
:: Chocolate Chip Peanut Butter Cup Cookies
Recipe:
Refrigerated Chocolate Chip Cookie Dough
Mini Reese's PB Cups
Directions: Cut Cookie Dough into 4 pieces.  Put each piece in a lined mini muffin tin.  Bake per instructions on package but take out right before they are finished.  Immediately put mini Reese's peanut butter cups inside cookie, pushing almost all the way down.  Refrigerate until completely cooled.  Eat… YUM!!
I then made 4 cookie plates with a mix of each cookie I made.  I also purchased the holiday Ziploc bags to put them in for transportation.  I thought they made a nice decorative touch.  I actually had some left over and kept those for us to enjoy!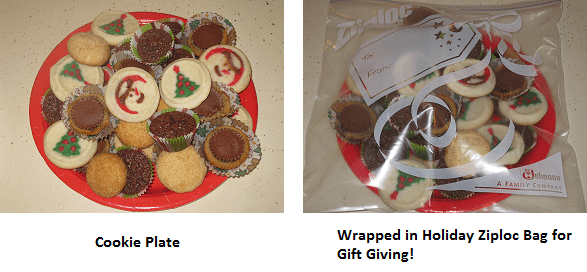 For all 4 of these recipes I spend $18.08. That included paper plates and decorative bags to present them in along with eggs and flour needed for 2 recipes. I used a few products I had on hand (oil, cinnamon, sugar, m&m's and mini muffin tins).
I met the challenge now it's your turn! Let me know if you decide to try and make some homemade gifts that cost $5 or less. I'd love to hear about it!