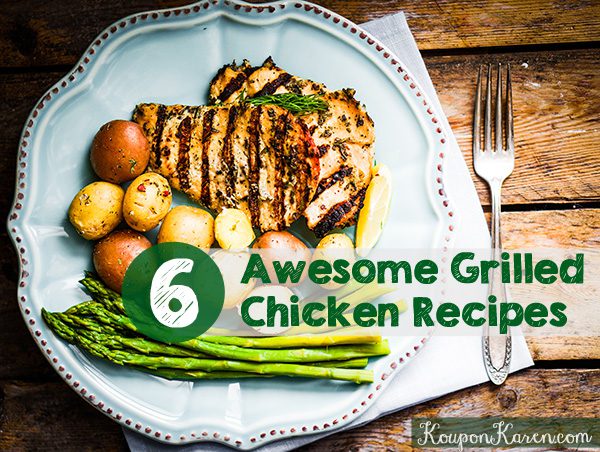 Chicken is a staple in my house and we especially love Grilled Chicken!  I'm on the look out for more ways to season and cook chicken this summer. I'm finding that there are many awesome grilled chicken recipes and while I'd love to try them all, it's pretty hard to do that.  I did make a quick & easy grilled chicken which I shared before, but that's just the beginning.  The more I look online, the more I'm finding that there are so many other ways.  It looks like my grill is going to get a good workout!
Below is a list of a few from my list and as I make them, I'll let you know how they come out!
6 Awesome Grilled Chicken Recipes
BBQ Chicken Kebabs Recipe
Grilled Chicken Cordon Bleu
Grilled Honey Lime Chicken
Herby Grilled Chicken Kebabs with Grapes and Shallots
Grilled Chicken Kabobs
Grilled Chicken & Bacon Pizza with a Garlic Cream Sauce
Share this post on Twitter: Tweet: 6 Awesome Grilled Chicken Recipes https://wp.me/pMKCI-v3L via @KouponKaren
Do you have a good grilled chicken recipe you can share?  If so leave a link in the comments section.
Don't forget about the side dishes!  I love to grill vegetables at the same time with a grill pan.  I prefer to do all my cooking on the grill so I have less clean up.