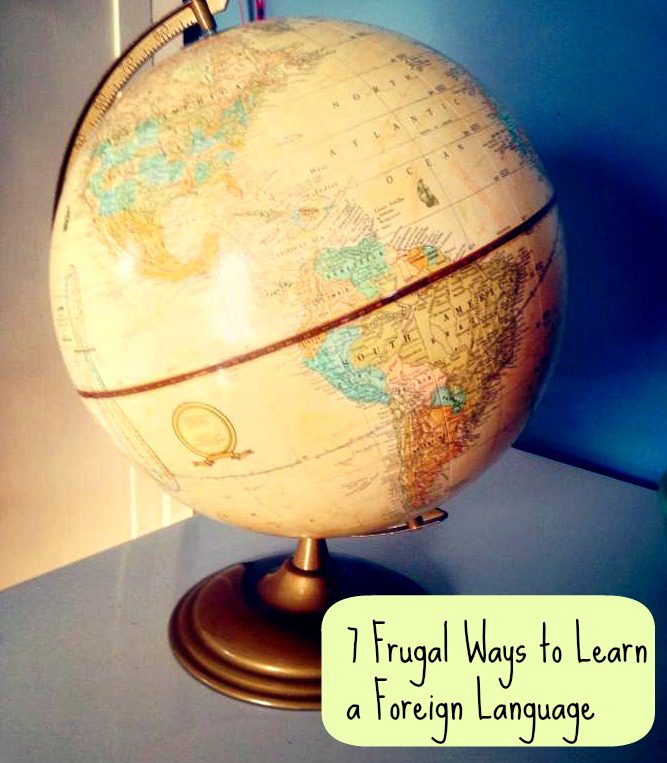 Have you ever wanted to learn a second language? Being bilingual can make you an asset in your work field, enriches you culturally, and can really expand your horizons. But where do you begin? Sure there are quite a few programs out there you can order, but many of those cost hundreds of dollars. If spending hundreds of dollars is not exactly in your budget, no worries. There are still plenty of ways to learn a foreign language without going broke. Below, you will find 7 frugal ways to learn a foreign language that are fun, simple, and totally frugal.
With resources like these available, becoming bilingual has never been easier or less expensive.
In no time, you too can be speaking a foreign language fluently. And while we can't provide the dedication for you, we can at least show you where to get started. Take a look at how easy it is!
7 Frugal Ways to Learn a Foreign Language
1. Download FREE lessons via Open Culture
If you have an iPad or iPod, you can download free lessons via Open Culture. This site offers a variety of courses in Chinese, Italian, Spanish and so many more. You can simply download the desired language and lesson and take it with you to the gym, listen in the car, etc. www.openculture.com/freelanguagelessons

2. Visit your local library.
Not only will your local library have endless literature on learning a second language, but chances are free groups meet up at your local library to put learning a second language into practice. My local library offers free Spanish lessons each week as well as take-home printables and activities. You may also be able to rent free instructional DVD's and audio CD's to help enrich your learning experience.
3. Check out My Language Exchange
Check out My Language Exchange where you get the chance to practice with an actual native speaker. This is a great way to better learn the language and a wonderful opportunity. There are many languages to choose from, so this is a site worth checking out. https://www.mylanguageexchange.com/Learn-Languages.asp
4. Wise up with Word2Word
Word2Word is a great site that not only offers excellent, free courses but you can also print off helpful worksheets and activities for free. This site puts free materials in your hand that can make your learning experience easier.
https://www.word2word.com/course.html
5.  Learn with others via Live Mocha
Live Mocha offers a wide variety of free language lessons. Included in your choices are over 20 languages just waiting to be explored. Live Mocha will also connect you live to other users who are learning the same language as you, so you can practice together.
www.livemocha.com
6.  Babble with new friends on Babbel
Babbel offers a wide variety of free lessons, and like Liva Mocha, you also have the chance to connect with others learning the same language as you. You will quickly find that practicing with others is one of the quickest ways to become fluent.
www.babbel.com
7. Visit your local community college
Many community colleges will offer free or reduced-cost workshops to learn a second language. You may not get too many take-home materials but you will at least have the chance to be taught in person by a professional. It seems as though even local churches are starting to offer basic Spanish lessons to anyone who is interested, so be sure to check with these resources to see what may be available and try to find Spanish tutors online.
Whether you choose to learn online in the comfort of your home or choose to take advantage of one of the life and in-person experiences, you will find that you can in fact learn a second language without spending an arm and a leg. Not only will you feel culturally rich, but you will feel like your wallet is a little richer too! So, which one of these methods will you choose? Either way, bona Fortuna. That of course is Italian for good luck!