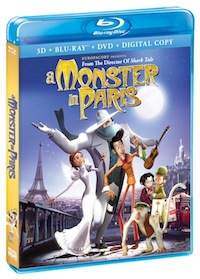 This post is Sponsored by Shout! Factory but my opinions are 100% my own!
Venture into the delightful Parisian cityscapes 1910s and spellbound by the visually opulent family adventure of A MONSTER IN PARIS, directed and written by Bibo Bergeron (Shark Tale) and produced by world renowned filmmaker Luc Besson's EuropaCorp and Bergeron's Bibo Films. With an exceptional English-language voice cast of French singing sensation Vanessa Paradis, singer/song writer Sean Lennon, Catherine O'Hara (Penelope), Adam Goldberg (A Beautiful Mind), Bob Balaban(For Your Consideration), Danny Huston (Hitchcock) and Jay Harrington (Private Practice), A MONSTER IN PARIS harkens back to the classic tale of beauty and the beast, and delivers vibrant storyline packed with elegant characters, unforgettable song-and-dance musical numbers and beautiful CG animation that the whole family will enjoy! This critically acclaimed international major motion picture also features enchanting, honey-toned vocals by Vanessa Paradis and Sean Lennon, with music score by popular French singer/songwriter Matthieu Chedid (aka M) and Patrice Renson.
About A Monster In Paris
A wacky inventor, his camera-crazy best friend and a madcap monkey make a massive mistake when let loose in a mad scientist's laboratory. With lotions and potions spilling everywhere, the troublesome trio accidentally creates Franc, the product of a reaction between a common flea and one of the scientist's mystery concoctions. What they fail to realize, however, is that this 'monster' is actually a soft-centered soul with an astounding talent for music.
With the help of an enchanting nightclub singer Lucille, Franc becomes the talk of the town, just as stories of Paris's newest monster attract the attention of the egotistical police commissioner, hell bent on securing a big prize to help his battle to become mayor. The unwitting scientists and the singer must team up to protect Franc, a monster with more than a musical career to protect!
Another great movie to add to your movie collection.  My kids loved this and I think it's a great family movie!

(1) Koupon Karen reader will win A Monster in Paris Blu-ray!

To enter the giveaway, use the Giveaway Tools widget below. This is a new widget I'm trying and I hope you like it. Please let me know if you have any questions about it or problems with it! Of course Facebook is in no way associated with this giveaway!
As a reminder, comments left on Facebook or Twitter will not be included. You must follow the instructions on the widget about the proper way to enter.
Disclosure: I received a Free product for review. My opinions are 100% mine.