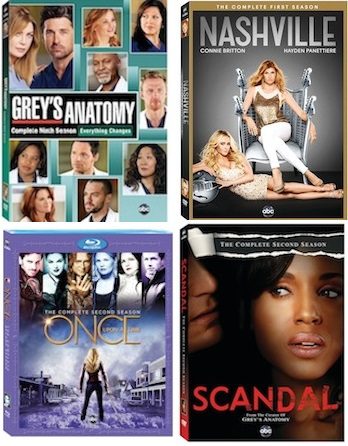 ABC Shows coming to DVD and Blu-ray Fall of 2013
ABC invites you to enjoy the magic, drama, music, and heart-stopping TV on DVD and BLU-RAY this Fall!! Check out the following seasons available this August/September:
Once Upon a Time: The Complete Second Season
Scandal: The Complete Second Season
Nashville: The Complete First Season
Grey's Anatomy: The Complete Ninth Season
I have a handful of shows I enjoy watching on a regular basis but I really want to see a few new ones including Scandal, Once Upon a Time and Nashville.  They are all on my list to watch this summer when all the other shows are running repeats.  So I'm excited to see these on DVD and Blu-ray.  I haven't seen season one of either Scandal or Once Upon a Time but I can probably get them on Netflix or Redbox over the summer and then in the fall I'll be able to find these on DVD/Blu-Ray.
I've been a fan of Grey's Anatomy from the first season and I still love it.  I just watched the last episode for this season last night and I hate they way they ended it.   I won't say what happened but that last scene, I just hope it's not what I think but we have to wait until the new season begins in the fall to find out.   The show has changed so much from when it first aired but I love the direction it's taken and as a matter of fact I think this season was the best one yet!  Are you a Grey's fan?
Are you looking forward to seeing any of these shows?