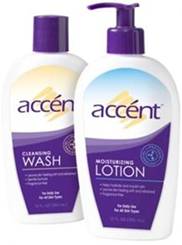 This post is Sponsored by accéntTM Skincare but my opinions are 100% my own!
If you have sensitive skin, finding the right lotions and soaps can be very hard.  I have a friend who can only use certain items on her skin as it's extremely sensitive.  I've heard of her struggle so I know it's not easy, especially when you are trying to budget your money.  Buying the one that's on sale isn't always an option.  So the more options you do have, the better.  New skin care innovations are being created all of the time that may be better for your skin type or skin care issue. It's times like this when change is good!
New accéntTM   Moisturizing Lotion and accent Cleansing Wash, the only line of moisturizers and cleansers to utilize Protease Technology, a proprietary blend of plant-based enzymes, amino acids and moisturizers that work in concert offering a skincare regimen like no other product.  Developed with dermatologists, accéntTM   skincare products include niacinamide (a form of vitamin B3) which helps to activate skin's natural ability to produce ceramides to protect skins barrier. Additionally, the Protease Technology in the accéntTM products combine ficin (derived from figs), bromelain (derived from pineapple) and actinidia chinensis fruit extract (derived from kiwi) with a blend of advanced moisturizers including hyaluronic acid and amino acids.
Now a recommended skin care regimen by dermatologists, accéntTM products help to soothe and protect all skin types.
accéntTM products are also:
Safe for all skin types
Paraben-Free
Non-Greasy
Non-Irritating
Non-Drying
Fragrance-Free
Won't clog pores
accéntTM Moisturizing Lotion
Combines nurturing epidermal
Ingredients to promote skin hydration. Protease Technology from plant-based enzymes
Combined with amino acids and advanced moisturizers like hyaluronic acid, helps to
Hydrate and nourish normal to dry flaky skin, leaving it feeling soft and refreshed.
accéntTM Cleansing Wash
Acts as a first step in moisturizing dry, sensitive skin by
Gently cleansing the skin. Utilizing the Protease Technology, the gentle formulation,
Including sodium cocoyl apple amino acids, softens as it cleanses. With a pleasant
Foaming action, skin is left feeling soft and refreshed.
The accéntTM   Moisturizing Lotion feels great on my skin and goes on so easily yet is not greasy at all, which is always the number one thing I look for in a lotion.  There really isn't any kind of scent so it truly is fragrance-free.  However some fragrance-free lotions still smell weird to me but this one does not so that's another big plus.   I've been using it the past week and apply it in the morning and then before bed on my hands and they've felt great.
The accéntTM products are available at CVS stores and online at drugstore.com. The accéntTM Moisturizing Lotion is sold at a suggested retail price of $15.99 and the accéntTM Cleansing Wash for a suggested retail price of $14.99.
For additional product information, visit www.accentskinhealth.com.

(1) Koupon Karen reader will win accéntTM Moisturizing Lotion and accéntTM Cleansing Wash.

To enter the giveaway, use the Giveaway Tools widget below. Email and feed subscribers will need to click-through to the site to enter the giveaway.
As a reminder, comments left on Facebook or Twitter will not be included. You must follow the instructions on the widget about the proper way to enter.   Of course Facebook is in no way associated with this giveaway!
Disclosure: I received a Free product for review. My opinions are 100% mine.