Growing up I loved playing games.  My brother wasn't as big of a fan but he put on a smile and played with me anyways.  My husband isn't a big board game fan either so needless to say when my girls discovered board games and loved them – I was so excited!  We have tons of games in our house and we are always looking for more to add to our collection.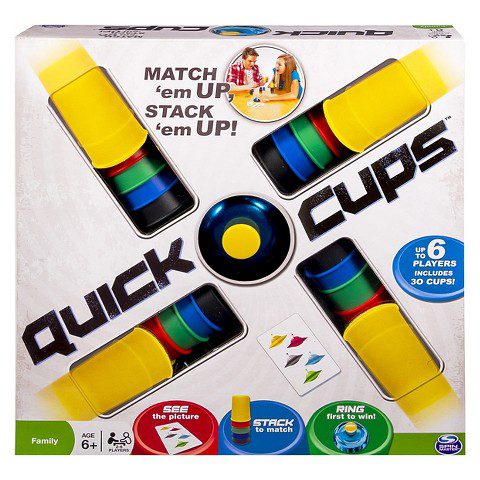 Quick Cups looks like a fun game for any age. It's all about matching and stacking cups to a picture. When a picture card is turned over, everyone races to line up or stack up their cups in the same color order as the picture.   It sounds like a lot of fun.
Check out the amazing new Quick Cups video from Spin Master below:
Quick Cups is a great game where kids can outperform their parents if they have a quicker eye and hands! It's a game for everyone to play and ANYONE can be the winner!
Right now Spin Master is running an incredibly generous giveaway of 3 grand prizes worth $125 each, and 10 runner up prizes.  Enter below to win 1 of 3 amazing toy gift baskets that include Grand Prize Games Packages of Fibber, Moustache Smash, Boom Boom Balloon, Shark Mania, Rapidoodle, and Quick Cups! Also, 10 Fantastic Runner Up Prizes of the Quick Cups Board Game!
Subscribe to the Spin Master YouTube Channel for more fun games!
Disclosure: This post is sponsored by Spin Master!