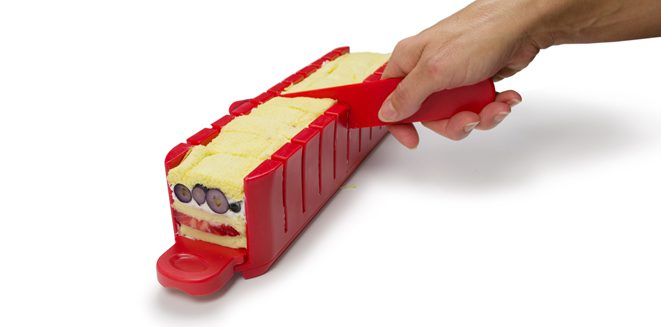 This post is Sponsored by the Architec Stackable Appetizer Maker but my opinions are 100% my own!
I have a really fun item to share with you, especially if you like to entertain and show off your cooking skills!  The Stackable Appetizer Maker is the perfect thing for anyone who loves to cook and be creative in the kitchen.   This was the first time I had heard of it and I knew I'd love to play with it.  I've been trying to cook more and be more creative in the kitchen so this was something I could really have fun with.
If you aren't familiar with it, it's the newest must-have kitchen gadget that makes it quick and easy to create exquisite, multi-layered, perfectly proportioned bite-size morsels in just 5 minutes! The Architec Stackable Appetizer Maker gives even the most novice entertainer the tools for success, featuring ingenious design and easy-to-follow instructions.
Imagine being able to use ordinary ingredients straight from the cupboard to make simple yet delicious recipes like the Texi Mexi Half Stacks featuring corn muffins, black beans, cheese, tomato and onions or the colorful Berry Cheesecake Stacks including pound cake, whipped cream cheese, strawberries and blueberries.
Here's how it works:
Place the "Cut and Carry Base" in the main body.
Next, layer the ingredients, starting and ending with dry ingredients.
Layers are placed to a desired thickness or until the main body is full.
Once in place, it's easy to cut into bite size pieces through the guide posts embedded into the main body.
It's even easy to lift creations up and out perfectly by the handles attached to the "Cut and Carry Base."
The Stackable Appetizer Maker comes with the main body, "Cut and Carry Base," a tamper to press dry layers, spreader/serrated knife and a cookbook with 40+ recipe suggestions for use along with the appetizer maker. All four pieces snap together for convenient storage.
At $19.99, The Stackable Appetizer Maker can assemble an unlimited number of recipes.
I was excited to get this and finally had a chance to try it out for Mother's Day.  We invited my mom over for dessert and I thought I'd impress her with a fun layered cake made with the Appetizer Maker (it's for deserts too!).  I didn't have a chance to bake the cake my self so I picked up a marble cake with no frosting and some chocolate frosting.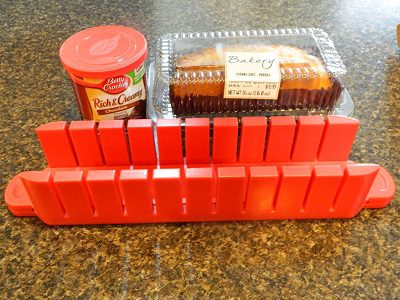 I first cut the cake across the top and then three more times like below and now I had 4 layers of cake.   I then cut them in half so I ended up with 8 'strips' of cake like below…

Then I put two strips of cake along the bottom, then frosting, then cake, then frosting and finally cake on top.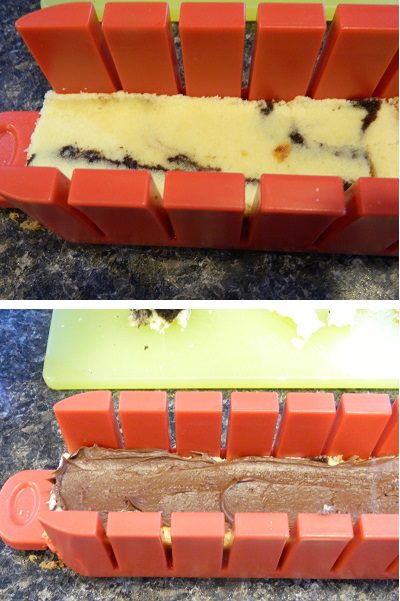 I sliced them and then lifted it up easily with the handles on each side.   I pulled the slices apart and arranged them on a dish.  I then piped a little frosting on top and set them aside until my parents arrived.  The girls were fascinated with what I was doing and couldn't wait to dig in.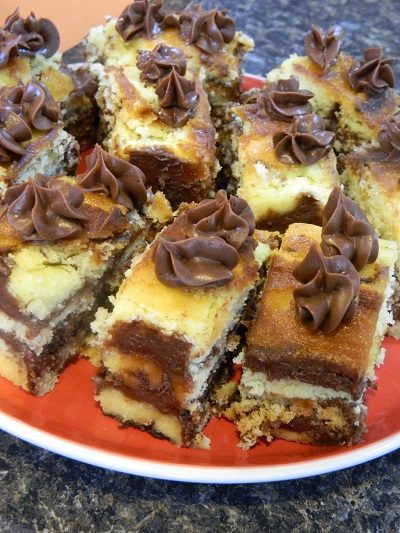 Now one thing I noticed after I was done is I really should have used a yellow cake, rather than a marble one because you can't really see the layers of cake and frosting once it's cut…. it all sort of blends together.  However, you sure could taste the layers and everyone loved it.  I did not eat any since I'm currently on Nutrisystem but I'm sure it was delicious.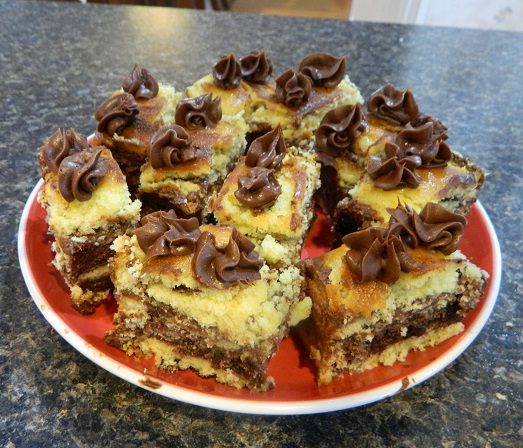 How did it look?  It looked really cool and my parents couldn't believe that I made these myself.  They thought I bought them like that but then I pulled out the Stackable Appetizer Maker and showed them how it worked.  They loved it.
I have some ideas of what I'll do next with it and I can see myself getting a lot of use from it.  I'd am going to experiment with doing something with layers of fruit!    The recipes that came with it are inspiring and I'm looking forward to making some of them and impressing my friends with what they will think is my new talent.
Have you seen this before?  Would you like to try it out yourself?  You can purchase it for $19.99 online at Archetic.com and on Amazon.  You can also try and win one below!

(1) Koupon Karen reader will win a Stackable Appetizer Maker!

To enter the giveaway, use the Giveaway Tools widget below. This is a new widget I'm trying and I hope you like it. Please let me know if you have any questions about it or problems with it! Of course Facebook is in no way associated with this giveaway!
As a reminder, comments left on Facebook or Twitter will not be included. You must follow the instructions on the widget about the proper way to enter.
Disclosure: I received a Free product for review. My opinions are 100% mine.