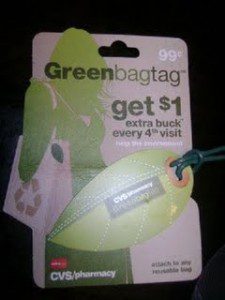 Are you using your Green Bat Tag at CVS?  Don't know what the Green Bag Tag is??  Well then I will tell you!!
In the fall of 2009, CVS introduced their Green Bag Tag.  You purchase the tag for $.99 and then attach it to a reusable bag.  Each time you shop and use your own bag, they will scan the bag tag and after every 4 uses, you'll get $1.00 Extra Care Bucks.
It's a great deal and so much better than any other store that gives you credit for using their own bags, as far as I know. Stop & Shop will give you $.05 for each bag used and so will Target.  Since we don't normally use a LOT of bags each time we shop at CVS, it will add up faster!
You can only use the tag once per day.  So if you make multiple purchases in a day, the tag will only scan once.
Just another way to get FREE Stuff from CVS!