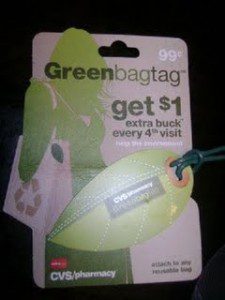 Are you using your Green Bat Tag at CVS?  I forget occasionally to grab the bag with the tag (that rhymes) but most times I have it.  Don't know what the Green Bag Tag is??  Well then I will tell you!!
In the fall of 2009, CVS introduced their Green Bag Tag.  You purchase the tag for $.99 and then attach it to a reusable bag.  Each time you shop and use your own bag, they will scan the bag tag and after every 4 uses, you'll get $1.00 ECB!
It's a great deal and so much better than any other store that gives you credit for using their own bags, as far as I know. Stop & Shop will give you $.05 for each bag used and so will Target.  While I'll take that $.05 each time, I'd rather get $.25 which is what it comes out to with CVS.
You can only use the tag once per day.  So if you make multiple purchases in a day, the tag will only scan once.  However you can always buy more than one tag, but you can only scan one per transaction.
Just another way to get FREE Stuff from CVS!