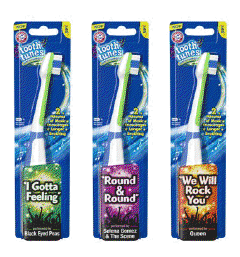 Still looking for Stocking Stuffer ideas?  Here are some from Arm & Hammer Oral Care items for the stocking.  From a private concert for kids, to affordable whitening tools for adults, Arm & Hammer Oral Care has something for the whole family, to ensure all your loved ones enter 2013 with a bright, white smile!
My favorite is the Tooth Tunes!  Arm & Hammer has launched an exciting new product for kids this year! This holiday season, give tweens the gift of a private concert… in his or her mouth! Arm & Hammer Tooth Tunes is a brand new toothbrush that uses patented technology to deliver sound through the inner ear while brushing that only the user can hear.  Each brush plays two minutes of music, which is the dentist recommended length of brushing.  Songs include
"Only Girl (in the World)" performed by Rihanna
"Dynamite" performed by Taio Cruz
"One Day" performed by Cody Simpson
…..and many more songs kids will love.  Learn more at toothtunes.com.  I will try anything to keep the kids brushing long enough and they are going to love these!  I received two for their stocking and my husband and I think it might be their favorite thing in their stockings.  We'll see!  I have a feeling they are going to be very excited to brush their teeth Christmas morning!
For the adults we have….
Arm & Hammer™ Spinbrush™ ProClean™ – Give the gift of fresh breath this holiday. The Arm & Hammer™ Spinbrush™ ProClean™ battery-powered toothbrush removes up to 70% more plaque.* The ergonomic handle offers great comfort and control, and the Dual Action head technology features a circular Oscillating Head that spins back and forth to thoroughly clean and polish, even between teeth. The secondary brush bristles move up and down to scour away plaque and massage along the gumline – promoting good dental hygiene for 2013!
Arm & Hammer™ Whitening Booster – Start 2013 with a whiter, brighter smile! ARM & HAMMER™ Whitening Booster has 3X more whitening agent than the leading whitening strip and is clinically proven to whiten teeth in just one week. Arm & Hammer™ is a mess-free option, and requires no inconvenient extra steps to whiten your teeth. Simply apply Arm & Hammer™ Whitening Booster over your toothpaste and brush as normal.
My husband loves the Spinbrush and actually asked me for a new one this year so I'm excited to have him find this in his stocking. He loves how clean his teeth feel after this so it's all he will use. I personally prefer the traditional toothbrush myself but I love the Arm & Hammer Whitening Booster and how well it works. And I like how I can add it to my toothpaste so it doesn't have a really strong flavor to it. And it works well!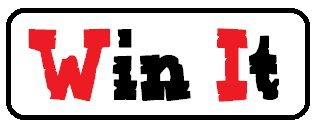 (1) Koupon Karen reader will win THREE Tooth Tunes toothbrushes!
To enter the giveaway, use the rafflecopter widget below. You can now sign in with Facebook and it will remember you each time you enter another rafflecopter giveaway. Of course Facebook is in no way associated with this giveaway, the people of rafflecopter just want to make it easier for you to enter giveaways now.
As a reminder, comments left on this blog post, Facebook or Twitter will not be included.  You must comment within the Rafflecopter Widget below.
Disclosure: I received a Free product for review. My opinions are 100% mine.