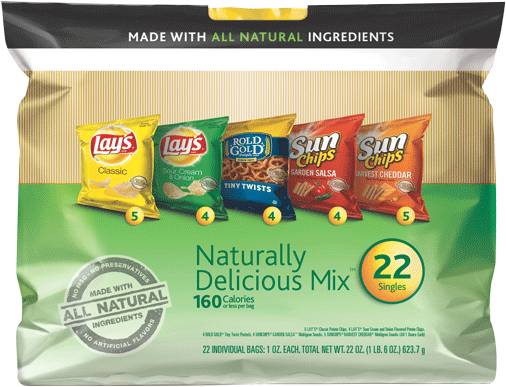 Product Name: Naturally Delicious Mix multipack sacks of Frito-Lay snacks
Product Information:  "The Naturally Delicious Mix multi-pack contains 22 single-serve bags of snacks, including Lay's Classic and Sour Cream and Onion potato chips, Rold Gold Tiny Twists pretzels, and SunChips Garden Salsa and Harvest Cheddar multigrain snacks – giving both moms and kids multiple delicious options! These products are made without any artificial or synthetic ingredients, artificial flavors or artificial preservatives, and contain no monosodium glutamate (MSG). The 1-oz bags will help you manage portion control, even on the go, and fit nicely into any lunch container."
Check out these snack ideas for some new, healthier afternoon snacks:
Give some love to Whole Grains – We all know whole grains are important, but how do you convince kids to eat them when they prefer white bread and pasta? It's easy: Add them to their snacks! Frito-Lay offers great options for snacks containing whole grains your kids are sure to enjoy.
SunChips multigrain snacks pack a punch with 18 grams of whole grains per serving. Portion out a serving into a reusable container for your kids' lunch boxes or throw them into a 1-oz bag for easy on-the-go snacking!
Keep it Colorful – Fruit is always a go-to snack, but it's not always the first choice for kids. Make snacks fun by mixing and matching colorful fruits and vegetables.
Pack fruits and vegetables that represent your kids' favorite sports teams colors, like plums and bananas for the Yankee fan, green grapes and cantaloupe for Packers' fans.
Create a rainbow mix dip with red cherry tomatoes, orange carrots, yellow pineapple, green celery, blue blueberries, indigo grapes and purple plums. Cut each fruit and veggie into bite-size pieces, and serve the dip alongside SunChips to pair whole grains with other vitamins and nutrition!
Stay Hydrated – With school starting during the hottest time of the year, it's essential that kids stay hydrated. Dips paired with fruits and vegetables, which have high water content, are a delicious and easy way to boost hydration and nutrition (watermelon is 92% water!*).
Make fruit even more appealing by serving it on top of non-fat Greek yogurt. Not only will your kids love dipping, they'll be getting calcium and protein in the snack as well
For chips, take the nutrient factor up a notch with healthier dipping choices such as Sabra hummus and homemade salsa.
Try one of our delicious fruit dips like Cold Melon Salsa or Mango Salsa Chutney, and encourage your family to help create its own fruit-based dip!
*Source: LiveStrong.com
My Thoughts: Snack time is a favorite in my house and I'm always looking for healthy options for the girls and myself.  Chips are a big hit in my house and I love pretzels so I was super excited when I was contacted by Frit-lay about their naturally delicious mix sacks of frito-lay snacks.    the one ounce bags are perfect for snacks and my oldest was super excited to be able to take them for a snack at school.  I don't normally send chips because I'm too lazy to measure them out! LOL
The sandwich wraps are so cool and work really well.  They are washable and big enough to fit a sandwich in perfectly.  My oldest thought it was the coolest thing and kept folding and unfolding it so she could learn how it works.  She asked me today if she could have a sandwich again for lunch tomorrow so she can use the sandwich wrap.  It's great for also packing some snacks too like carrot sticks and cucumber slices.  Because they aren't too heavy, they stayed perfectly tucked inside the wrap.
The insulated lunch bag is perfect for my husband to take to work, especially because it's black and he won't carry something that's pink, lol.  It is the perfect size to slide in a square container that he sometimes uses for leftovers and can still fit a water bottle in.
Things like this help make lunchtime fun for the kids and affordable for the adults.  I would love to never use a plastic bag again!
WIN IT
(1) LUCKY Koupon Karen reader will win a prize pack from Frito-Lay containing an eco-friendly sandwich wrap, an insulated lunch bag and one Naturally Delicious Mix multipack sacks of Frito-Lay snacks.
Entry is simple! You just need to answer the question below by leaving a comment on this site! You can even gain up to 4 bonus entries for doing each additional item listed (just make sure that you leave one entry for each one — up to a total of 5 comments). As a reminder, comments left on Facebook, Twitter or other posts will not be included.
REQUIRED ENTRY
Leave a comment.  Tell me what your favorite healthy after school snack is or what it used to be if you don't have kids.
BONUS ENTRIES:
1. Follow @KouponKaren on twitter and tweet the following "I entered to #win a Frito-Lay prize pack @KouponKaren and you can too! https://wp.me/pMKCI-9ov"
2. "Like" Koupon Karen on Facebook
3. Comment on any other post on my blog (giveaway posts don't count) then come back here and let me know what post you commented on.
4.  Sign up to receive Koupon Karen daily emails or add me to your favorite reader.
Details: This giveaway is open to US Residents and will remain open until September 20th at 11:59 p.m. EST . Any comments left after this time will not be counted. The winner will be selected randomly and will be notified via email and will have 48 hours to claim their prize.
Disclosure: I received the same prize as the winner for review. My opinions are 100% mine.