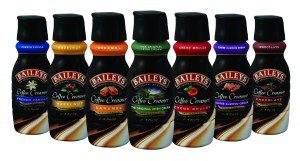 Product Name: Baileys Non-Alcoholic Coffee Creamers
Product Information: People have loved the smooth, creamy richness and flavor of BAILEYS® Original Irish Cream since it was created over 30 years ago. So we thought (and soon found out we were not alone), wouldn't it be great if people could enjoy this rich flavor in their coffee anytime they want? So we came up with BAILEYS® Coffee Creamers — delicious, non-alcoholic flavored coffee creamers, with all the quality and great taste for which BAILEYS is known.
They come in 6 awesome flavors:
French Vanilla – Ooh-la-la … lush, creamy vanilla in your coffee. Just the aroma alone is enough to induce some serious coffee-sipping … serious in a seriously relaxing, dreamy kind of way. After all, the sensuous, inviting vanilla bean was made for pleasure … created to take you to a special exotic place otherwise known as extreme comfort. Our contribution is just making sure it's part of the best coffee creamer ever.
Hazelnut – What is it about hazelnut that's so intriguing? And why do the world's best chocolates always have hazelnuts in them? The answer is hazelnut flavor. It's subtle, yet distinct. Rewarding and deeply pleasing. It's also the kind of thing you can indulge in without a trace of guilt. And of course, it's natural with coffee. And with BAILEYS®, it's the best hazelnut creamer there is.
The Original Irish Cream – It wouldn't have been right to do a BAILEYS® Coffee Creamer without including "The Original" Irish Cream. People all around the world know and love the rich, creamy flavor that started it all. And now that it's available in BAILEYS Coffee Creamers, you can start a new tradition for yourself: delectable coffee every day.
Crème Brulée – The inspiration begins with tapping the thin iced sugar with the side of your spoon. The flavor comes from mixing in these sweet broken pieces with the warm and sweet custard underneath. When you see crème brulée on the menu, you know how your meal will end. And when you try this new BAILEYS® Coffee Creamers flavor, you won't believe how delicious your coffee tastes.
Toffee Almond Cream – Rich and buttery caramel notes now meet the flavor of thinly slivered almonds. The coffee you just poured into your cup has no idea what's about to hit it. But you do. You can't wait for that beautiful swirl of cream to blend in, meet your lips and create that moment best described in the silent bliss that follows. Hello, toffee. Good day, almond. Glad to see you again, cream.
Chocolate – If chocolate is your indulgence, this is your creamer. Not just any chocolate either. The "close your eyes, melt in your mouth" kind of chocolate that makes the hair on the back of your neck stand at attention. Now adding this to your coffee makes this treat downright decadent. It's been said love is a substitute for chocolate, but last we checked, love never made your coffee taste this dreamy.
My Thoughts on Baileys Coffee Creamers
I had the opportunity to try all 6 flavors of Baileys Coffee Creamers while at SheCon in Miami Beach Florida back in 2011.  I was so excited to be able to try all 6 because I wouldn't have purchased them all for fear of not liking them. The first one I went for was the Caramel and it was a good first choice.  There was a nice hint of caramel flavor that made it just sweet enough that I didn't need to add any sugar at all.  That's a plus!
Then I tried the Chocolate.  I wasn't going to as I don't like chocolate flavor coffee so why would I like this?  And I was right, I don't like it.  But that's just my preference.  I love chocolate and I love coffee but I don't like them together.
Moving on….. I next tried the Creme Brulee.  They told me that if I likes the Caramel I'd love the Creme Brulee.  They were right, I LOVED the Creme Brulee!!! Every time I filled up my coffee cup (they gave us small cups so it was like having shots of coffee) I used the Creme Brulee.  It was that good!
But I knew I needed to try them all so then I went on to try the French Vanilla and Hazelnut. Both are flavors that I enjoy in my coffee but they didn't stand out as any different than ones I've tried in the past.  Not that they weren't good, they were excellent, but it was a familiar flavor to me.
And finally, I tried the Original Irish Cream and the Toffee Almond Cream.  Both were excellent and again they were sweet enough that I didn't need any sugar.
In ending I will tell you that in my refrigerator right now you will find Bailey's Coffee Creamers Creme Brulee…….. that's how good it is!! YUM YUM!
Disclosure: I received the same prize pack as the winner. My opinions are 100% mine.