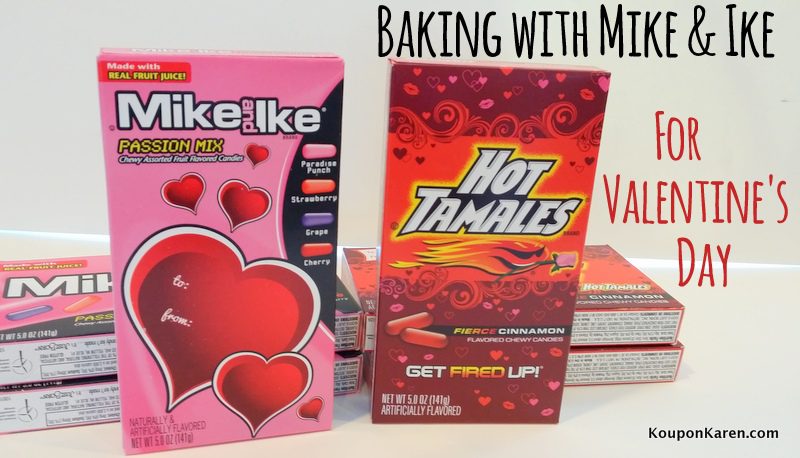 This post is Sponsored by Mike & Ike but my opinions are 100% my own!
Are you looking to make a fun treat for the kids for Valentine's Day?  How about making some cookies with Mike & Ike Passion Mix?  These will not only look cute, but the kids will love them.
We received some Mike and Ike® Passion Mix and Hot Tamales® Hottie and while they are great just on their own, they are fun to add to cookies.   The Mike and Ike® Passion Mix blend includes Paradise Punch, Strawberry, Grape and Cherry flavors.  The Hot Tamales® special edition for Valentine's Day is the classic Cinnamon flavor everyone loves and the box comes ready to gift with a tag fully integrated into the packaging!   My husband LOVES the Hot Tamales so I'm putting those aside to give him as a treat for Valentine's Day.
"There is nothing sweeter on Valentine's Day than candy," says Koren Ivie, Brand Manager for Mike and Ike®  and Hot Tamales® candy.  "We are sure consumers will fall in love with Mike and Ike® Passion Mix as well as HOT TAMALES® with Valentine's Day packaging!"
I agree with him!  We are a family who loves candy – all kinds.   But instead of giving my kids  a box each of Mike and Ike Passion Mix I made some cookies for them and their friends to enjoy after school today.
You can use any sugar cookie recipe and even a package mix if you'd like.  Or look below for a yummy cookie recipe.   Once everything is mixed together add cut up pieces of Mike & Ike Passion Mix candy and add them to the cookie batter.  I choose to just use the Pink & Red ones.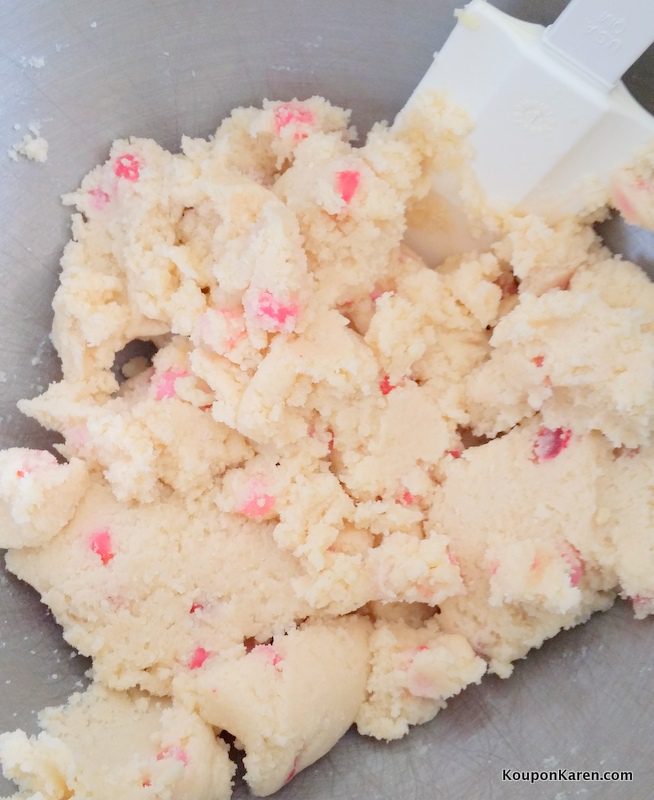 Then use your handy cookie dropper to put them on the cookie sheet and then they'll all be the same size (or close to it).  If you don't have one I highly recommend the cookie dropper from Good Cook.  Bake according to cookie recipe and you'll have these fun looking cookies!  (In case you are wondering, that is the Sweet Creations Silicone Baking Mat and I love it – cookies slide right off with no spray needed!)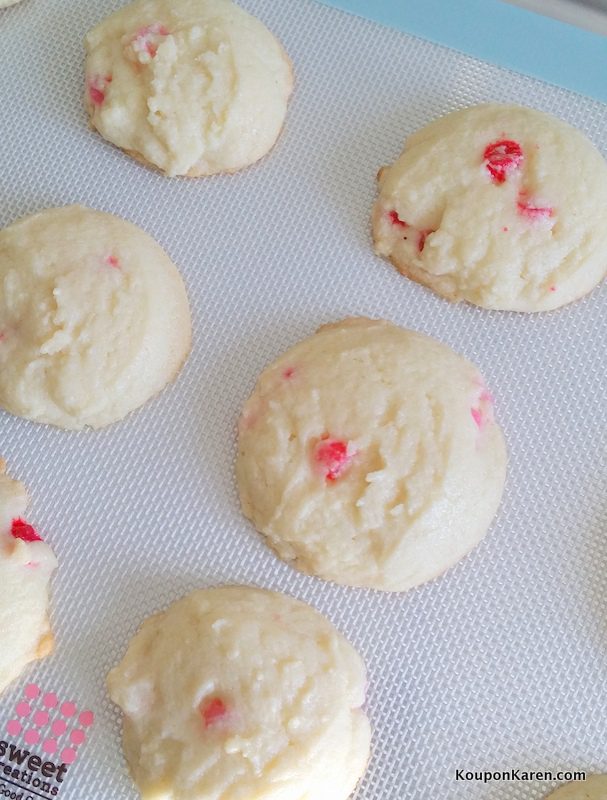 My kids were so excited when they came home to these and immediately gobbled some up!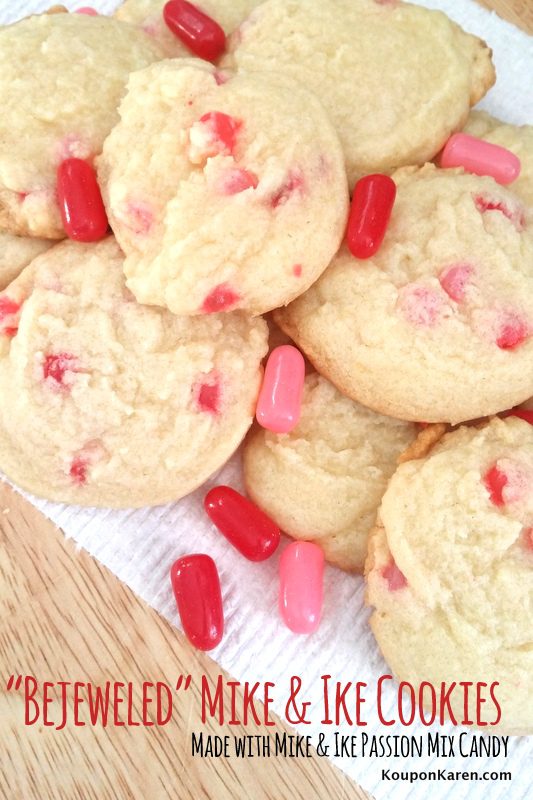 Here is the recipe:
[print_this]
BeJeweled MIKE AND IKE® Cookies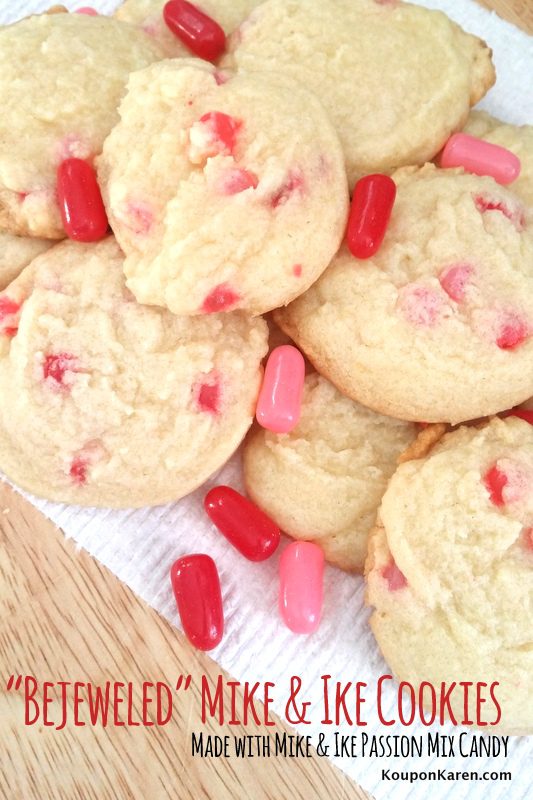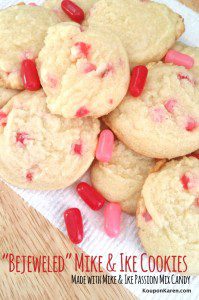 Prep Time: 15 min
Cook Time: 10 min
Ready Time: 25 min
Servings: 36
INGREDIENTS:
1 ½ Boxes of MIKE AND IKE® Passion Mix
2/3 Cup margarine – cold
1 Cup Sugar
1 Egg
1 teaspoon vanilla
2 Cups flour
1 teaspoon Baking Soda
INSTRUCTIONS:
Pre-heat oven to 350 degrees F.
In a mixer bowl, put 2/3 C Margarine, 1 C Sugar, 1 Egg and 1 teaspoon Vanilla.
Mix until well creamed.
Add in 2 C flour and 1 teaspoon Baking Soda.
Add in chopped up MIKE AND IKE® Passion Mix, mix into a dough (will be slightly sticky).
Roll into 1 inch balls. Place on cookie sheets lined with baking paper.
Bake for about 10 minutes or until edges are golden. Centers will be slightly soft.
Let cool.
[/print_this]
For more information visit www.mikeandike.com and www.hottamales.com
Disclosure: I received a Free product for review. My opinions are 100% mine.