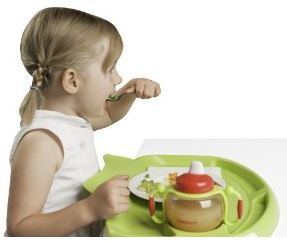 The Bambinos! Tidy Table Tray + Flexi-DinerTM is an innovative way to bring babies, toddlers, and little kids to the table — making mealtime more fun for children, and easier for mom and dad. It clips easily to tables, features an easy on/off insert, and has an extending lip to catch spills. The Tidy Table Tray + Flexi-DinerTM is BPA free, and has a spill catch lip which ergonomically molds to a baby's body, while catching lap spills that fall between the child and the table. It protects tables, floors, clothes and reduces laundry loads (and need for bibs) too. The Bambinos! tray invites young children to eat with parents and other family members while giving them a special place at the big table just for them. The tray also has interactive locations for cups, spoons, and forks, so that as your child grows she can learn that different things go in different places. The base tray allows for meal time to become craft or playtime after eating is over. Parents can make one trip to the table instead of setting several, setting up everything in the kitchen for mealtime on the Flexi-Diner. When the meal is over, the insert tray is simply lifted out and brought back to the kitchen for easy cleanup. The tray is held onto the table with a firm clip that fastens in seconds to the rim of tables (up to 2″ thick), and was engineered with baby in mind. 18+ months.
Product Features
Clips easily to dining tables in seconds
Keep tables, laps and floors clean!
Grow with me tray system for ages 18m – 5 yrs
Makes set-up and clean-up a breeze
Adapted for use with booster seats, table high chairs, and kids tables
What a GREAT tray.  This is definitely something that a mom of a toddler needs to have.  IT really makes clean up so much easier.  Our high chair had something like this and it was very helpful because I could just take it off the tray table and wash it.  But once we went to the table, it was always a mess.  What I love most about this is it stays put on the table and it catches spills!
Are you looking for other baby products? You can find lots of items like a new high chair – My Babies Planet – here!
Disclosure: I received a Free product for review. My opinions are 100% mine.