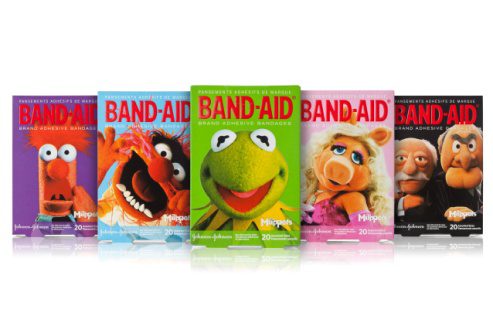 Product Name: Band-Aid and Neosporin Back to School First Aid Kit
Product Information: As you know, cuts and scrapes are inevitable as kids get back to school and back to after school sports, so it is important to kick off the school year with a well-stocked First Aid Kit!
Products to Keep in the First Aid Kit This Year:
BAND-AID® Brand Adhesive Bandages featuring The Muppets. These bandages feature your favorite Muppets characters in their usual wacky and wild poses!
They are available on Amazon.com and at mass retailers with a suggested retail price of $2.99.
NEOSPORIN® First Aid Antibiotic Ointment. NEOSPORIN® heals wounds two days faster and provides long-lasting infection protection to help minimize the appearance of scars from cuts and scrapes.
Available at mass retailers with a suggested retail price of $8.99
BAND-AID® Brand Adhesive Bandages with QUILTVENT® Technology. The new technology creates air channels to let wounds breathe even better than before, while still protecting from dirt and germs. It also wicks away fluid to keep wounds clean.
Suggested retail price may vary.
My Thoughts:  We go through a lot of Band-aids some weeks – it's pretty crazy.  And my girls love character band-aids so they were excited to see the Muppets ones as we haven't had any of those.  The fun character band-aids usually bring a smile to their faces when they have cuts or scrapes.  My husband was happy to see some 'adult' band-aids in this care package so he didn't have to use the kid ones next time he needs one.  Not that he really minds.
I'm excited to try the Quiltvent Technology band-aids as I've heard about them and wondered how well they work.  We usually tell the girls to take off a band-aid and let the cut/scrape breath because we know that helps, but sometimes it just isn't ready to be out in the open so these will be helpful.
We are also big fans of Neosporin and always use it before putting on a band-aid.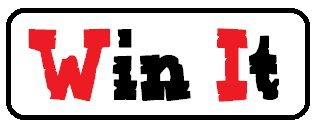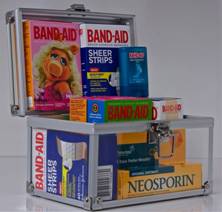 (1) Koupon Karen reader will win a First Aid Kit stocked with essentials to keep on hand for the playground, including NEOSPORIN® antibiotic ointment, new BAND-AID® Brand Adhesive Bandages with QuiltVent® technology and Muppets BAND-AID® Brand Adhesive Bandages!

To enter the giveaway leave a comment below telling me what you love most about Band-Aid's Back To School survival Kit.  This is the MANDATORY ENTRY.

PLEASE NOTE: After you complete the mandatory entry, you may do the below additional entries.  But they will not count if the mandatory entry is not there.
For additional entries you can do the following.  Just leave comments for each additional entry made.
This giveaway is open to US Residents only and ends September 10, 2012 and the winner will be notified within 48 hours of the close of the giveaway.
Disclosure: I received the same prize as the winner for review. My opinions are 100% mine.