It's my birthday today and no matter how old I am, I will always love my birthday.  It's my day where I celebrate Me!  But today I want to share that with all of my readers.  In honor of my birthday, I am giving away a gift card to one of my favorite places to shop – AMAZON.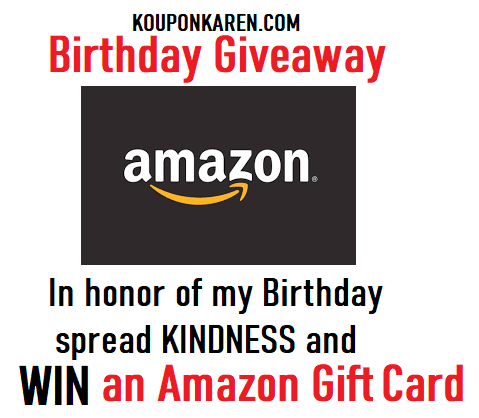 ENTER TO WIN AN AMAZON GIFT CARD
I will be giving away a $50 Amazon gift card to one lucky reader!  It's super simple to enter and you'll even have a few extra ways to enter if you'd like.  I'm sharing my day with all of you because we really need some GOOD in the world right now.  And you can help share some GOOD with everyone you know when you enter my Birthday Giveaway.
To Enter:
Mandatory Entry – Leave me a comment telling me one thing you will do this week to spread KINDNESS.  And then do it!  That's all I'm asking is to spread some KINDNESS.  It can be the simplest thing too.
BONUS GIVEAWAY ENTRY:
Share the link to this giveaway with your friends on social media.  If they enter, have them leave your name in the comment along with what THEY will do to spread KINDNESS and if THEY win, you will win a $25 Amazon Gift Card for being KIND and sharing!
Extra Entries:
Share any of the other posts from my blog on social media.  Once you share, comment on that post that you shared and where!  You can do this with as many posts as you'd like. Come back each day to share our new posts.
Sign up for my newsletter for another entry.  If you already receive my newsletter, just let me know you do in a comment.
THIS GIVEAWAY WILL RUN UNTIL SUNDAY, JUNE 7, 2020.  I will announce a winner by Tuesday, June 9th.  The winner will be randomly chosen from all the entries.  The more you enter, the more chances you have to win.