Product Name: Bisquick Gluten Free Baking Mix
Product Information: Introducing Bisquick® Gluten Free baking mix: the first gluten free baking mix with real melt-in-your-mouth Bisquick taste! Now, with Bisquick Gluten Free baking mix, you can make pancakes, waffles, biscuits and more, and they have never tasted so good. Since its release in 1931, Bisquick has become a trusted staple in America's kitchens for delicious and easy-to-prepare dishes. Now the convenience of Bisquick baking mixes will be available to the gluten-free community too, so everyone can enjoy the family favorite Bisquick recipes you love like fluffy pancakes, easy pies, mouth-watering casseroles and more!
Make sure to look for Bisquick Gluten Free baking mix in the baking aisle at your local grocery store.
To find great recipe tips and ideas, visit www.bisquick.com/glutenfree. There, you'll find countless gluten-free recipes for family favorites such as Gluten Free Strawberry Shortcakes and Gluten Free Pizza Crust, using Bisquick Gluten Free baking mix. Check back often! We're adding more recipes every day!
Coupon: Print a coupon for $1.00 off Bisquick Gluten Free baking mix!
My Review: When I was asked to review the new Bisquick Gluten Free Baking Mix I was excited since I love cooking with Bisquick already.   I received a really cool package that contained a pancake pan, pancake pen (which the girls LOVED), a pancake flipper along with a box of Bisquick Gluten Free baking mix.  I was very excited to make pancakes for my family with the pen.   After my oldest was off to kindergarten one morning, I brought out the pancake pen and made some pancakes for my 3 year old, that spelled out her name.  She LOVED it and didn't even notice the difference in the taste.  The pen was so easy to use.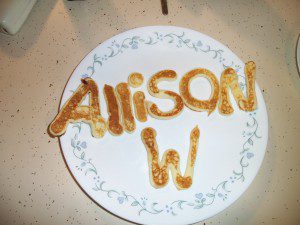 I made myself some round pancakes and a cup of coffee and sat down for my taste test. Of course I added butter and used syrup.. pancakes aren't complete without both, if you ask me!   Honestly, I could totally taste the difference and something was definitely missing. I kept eating them (it was breakfast and I was hungry) but eventually I had to give up.  They weren't satisfying enough for me.  I had enough left in the box to make a second batch so I grabbed my mixing bowl and began to make another batch but this time I added some vanilla extract, something I always add to my pancakes.  I made more round pancakes, this time in the pancake pan and froze a bunch for the girls for a quick breakfast.  I then sat down with another cup of coffee, butter and syrup on the pancakes and tried this batch.  Much Better!!  They weren't exactly like the regular pancakes I'm used to eating but I enjoyed them a bit more with the splash of vanilla.  It made enough of a difference for me to be able to eat them.
So all in all they weren't bad!  And the more stuff you add the more the flavor of the other items will take over.  Like blueberries, chocolate chips, bananas…. etc.
Win It! (1) Koupon Karen reader will win a Bisquick Gluten Free prize pack that includes a box of Bisquick Gluten Free baking mix, a pancake pan, pancake pen and a pancake flipper.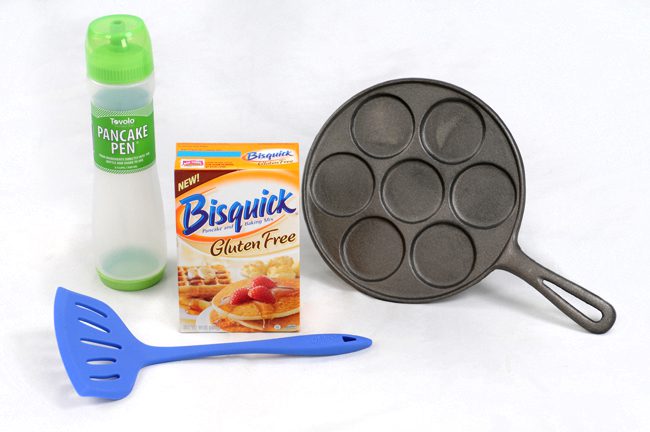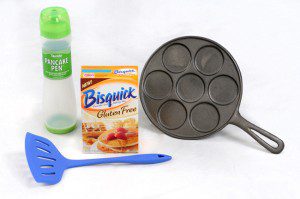 How to Enter: Bisquick is for making more than pancakes. Leave me a comment telling me what you would like to make with the new Bisquick Gluten Free baking mix.
Extra Entries: Once you do the above mandatory entry you can do any of the following an earn up to 6 more entries:
Follow @KouponKaren on twitter
"Friend" Koupon Karen on Facebook
"Like" Bisquick on Facebook
Tweet about this giveaway "I entered to win a Bisquick Gluten Free Prize Pack @KouponKaren & you can enter too https://wp.me/pMKCI-4et" (you can tweet this once a day!)
Blog about this giveaway
Sign up to receive Koupon Karen daily emails or add me to your favorite reader
Details: This giveaway is open to US residents and will end November 2nd at 11:59pm. The winner will be randomly picked and announced shortly after and will have 48 hours to claim their prize or I will randomly pick another winner.
Disclosure: Bisquick provided me with the product, information, and prize packs through MyBlogSpark and will also supply the winner with a prize pack.  As usual, my thoughts and my words are my own.