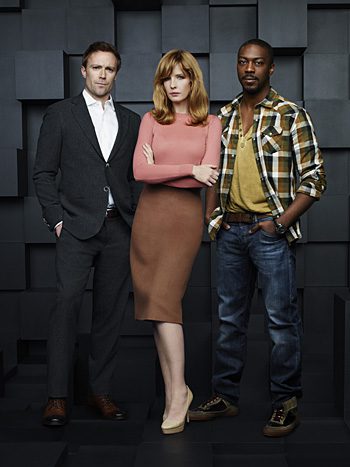 Disclosure: This post is part of an all expenses paid press trip to Los Angeles provided by Disney.  All thoughts and opinions are 100% my own.  All giggles and squeals will also belong to me while attending these events in LA.
Do you watch Black Box?  I do and I love it.  I will admit though I wasn't hooked at the beginning.  It seemed to have a slow start but I kept watching and now I'm hooked.  Black Box is on ABC on Thursday nights and it stars Kelly Reilly as Dr. Catherine Black, a world famous neurologist who is at the top of her game.  But she is also bipolar and is hiding this secret from everyone she works with.
This is the first I've seen of Kelly Reilly and at first I wasn't sure I liked her. She seemed "different". I couldn't tell if it was part of her acting out Dr. Black or if it was here. But after watching a few episodes I see that she clearly plays her character amazingly well. She was made for this role and I'm a new fan of hers!
While on my trip to California at the beginning of May, I attended a Mix & Mingle with ABC Showrunners and we chatted about upcoming season finales and summer premieres & found out what it's like behind the scenes.  I was happy to met with the Executive Producers from "Black Box – Ilene Chaiken and Amy Holden Jones.
Both ladies were so fun to talk to and they explained to us that he idea behind Black Box is actually from real life.   Amy Holden Jones' father was bipolar so she's taken her experience with that and turned it into Black Box.   It's not something that a lot of people are familiar with and she's happy to get this all out and to teach people about this disease.
I can't wait to see tonight's episode, Sing Like Me:
"Sing Like Me" – Dr. Black begins work on a music study where her patients range from a popular music competition winner that has lost her ability to recognize music pitch, to a man that has developed Acquired Savant Syndrome after being struck by lightning. Elsewhere, a street musician suffering from tremors requires Catherine to turn to an unlikely source for help in getting him the treatment he needs. Catherine realizes her feelings for Dr. Bickman might be mutual though he makes her a proposal that shocks her, on "Black Box," THURSDAY, JULY 3 (8:00-9:00 p.m., ET) on the ABC Television Network
Are you a fan of Black Box?  Let me know and we can chat!