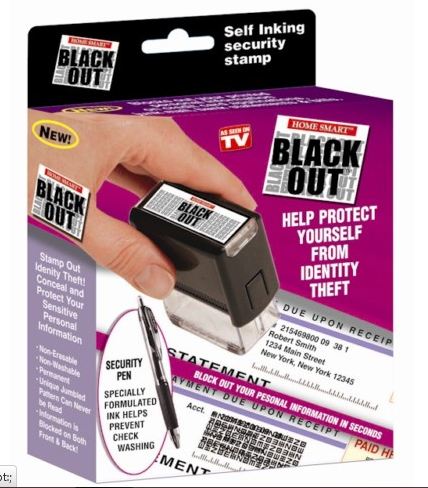 Product Name: Black Out Identity Theft Stamp
Product Information: Identity Theft continues to rise in the United States.  In 2010, the Federal Trade Commission received 250,854 identity theft complaints, about one fifth of all consumer complaints that year.   Current protective measures are often expensive or time consuming, such as shredders or tearing vital documents by hand.  Black Out is a simple way to solve the problem in seconds.
Black Out is a unique stamp and pen that permanently conceals personal information on important documents.  The stamp uses a pattern of random characters with non erasable, no washable ink.  The ink goes through both sides of the document and allows consumers to pick the data the want to conceal.  The primary use of the stamp is to  hide personal details such as name and address, credit card numbers or social security numbers.
The Security Pen contains a special permanent ink that is useful when signing checks and other significant paperwork since the names and amount on the checks can never be altered.
Purchase Information: Black Out can be found in drug stores nationwide and online at BuyBlackOut.com.
Product Price: $9.99
My Thoughts: I was excited to receive a sample of Black Out because I've been curious how good it worked.  I'm not that afraid of Identity Theft because I figure I'm online so much, that it's probably easier for my identity to be stolen online then from my garbage, but I do tear up anything with my name on it, just in case.  But not anymore because now I have Black Out.
I found that on certain things it worked really well and on other things not as well, but for the most part you couldn't really read what was underneath the stamp.  For those that it didn't work so well on, I just stamped it a few times over and over and it was fine.  But I love the idea of the stamp but I still tear them up before they go in the trash, just in case.
I know several people that are very worried about identity theft so I'm planning on giving a few of these for the holidays.  I know it will be well received.  If your worried about identity theft, try this out.  For $10, it's worth a shot.
Disclosure: I received the above Free Product for review. My opinions are 100% mine.