I'm so excited….  BlogHer is just 3 more days away and this will be my first blogging conference.  When I heard it was in New York City I told my husband I had to go since there was no plane ticket involved which would save a LOT of money.  (I was gonna go anyways lol).  Immediately I began searching for a Sponsor.  I not only wanted to be there to represent my blog but also a brand.    As the conference got closer I didn't give up.  Guess what?  I not only found one sponsor but TWO sponsors!!
Lane Bryant sent me a gift card to buy an outfit to wear while at BlogHer.  Being the savvy shopper that I am (and with the help of coupons) I was able to turn it into 3 outfits!!! Yup you read that right, I bought 3 outfits today for BlogHer.  If you've shopped at Lane Bryant you know that their clothes aren't cheap, however you are getting what you pay for and all my clothes from there always last a LONG time.
Here is what I bought:


It's called the Solid Goddess Dress and I love it!  It's great to have a basic black dress and this will be perfect for one of the cocktail parties I'm going too.  (That's not me modeling the dress lol)
I was looking for something comfortable to wear during the day too.  I normally wear black, tan or jean color shorts/capris but I really wanted something different.  Then I saw these Grey Shorts and loved the color and the material.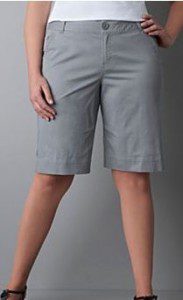 And to go with that I grabbed this purple T-Shirt… it's so soft and looks awesome with the grey shorts…
And finally I grabbed a pair of their Right Fit Jeans and this really cute top..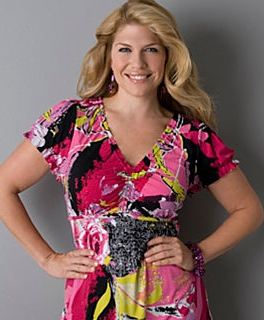 It looks so cute with the jeans. My mother thought it was a bit wild but I love all the colors.
Lane Bryant has also supplied me with some coupons to share with those that are interested at BlogHer but for those of you that aren't going to be there you can print one out too!
I will be tweeting about Lane Bryant while I'm there and if you want to follow along, you can with #lanebryant.  You can also follow Lane Bryant on twitter and "like" Lane Bryant on facebook. They are currently running a contest on facebook.  When they reach 80,000 fans everyone will be entered to win a $250 gift card and the 80,000th fan will win a $100 gift card.
So now I have a question for you.  Did you all see theABC/FOX ad controversy earlier this spring about the models on the commercials? If so what are you thoughts on that? I'd love to hear them and share them with Lane Bryant.  Leave me a comment.
Disclosure: Lane Bryant provided me with a gift card to purchase clothing for BlogHer.  My thoughts are my own and my opinion was not changed by this.