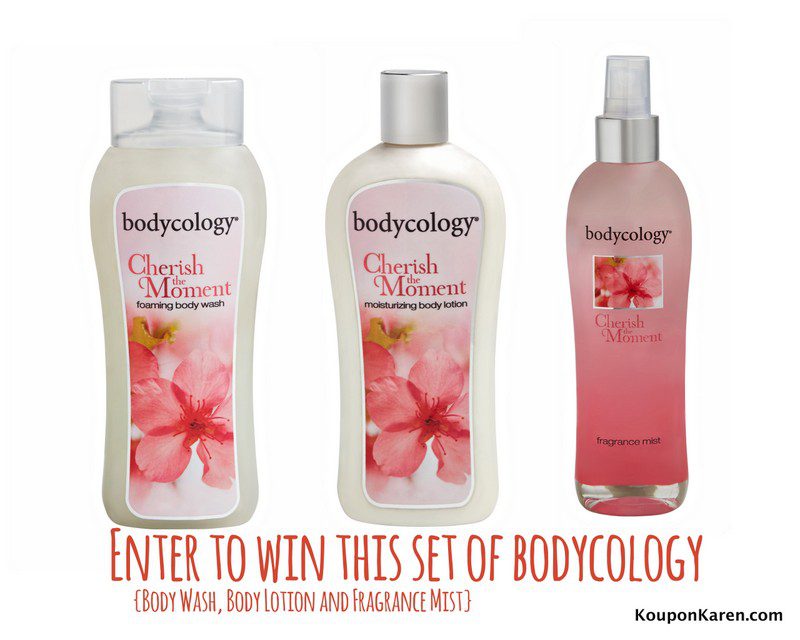 This post is Sponsored by Bodycology but my opinions are 100% my own!
I recently received some bodycology Cherish the Moment Body Lotion, Wash and Fragrance Mist to try.  I love body lotions, washes and fragrance mists.  Especially in the summer.  I put lotion on my legs and arms every day and I always use a nice scented body wash.  It makes me feel good knowing my skin looks soft and feels fresh.  And of course it smells nice too!  I love when I switch the scent and my kids notice the minute I walk downstairs!  They come running up to me to tell me how nice I smell.  😉
bodycology Cherish the Moment 
A blushing fragrance dominated by cherry blossom blooms, creating a blissful and radiant scent that enthralls the senses. With both floral and musk undertones, Cherish the Moment is an exotically pleasing fragrance. Top notes of Sweet Apple Blossom, Peach and Cherry Blossom lead to mild notes of Rose Petal, Muguet and Night Blooming Jasmine. Dry notes of Vanilla Bean, Creamy Sandalwood and Patchouli Musk round out this fragrance that's powdery and fresh like the first day of spring. Cherish the Moment is available in Moisturizing Body Lotion, Fragrance Mist and Foaming Body Wash.
I received all three Body Lotion, Fragrance Mist and Foaming Body Wash to try.  Normally I don't like a flowery scent but this one was really nice and subtle.    The body lotion wasn't greasy and was so easy to rub into my skin.  The scent was light and just 'there' but no overpowering.  I didn't smell all those scents they mentioned above, I could smell mostly the rose petal but it's nice.
The body was was great and foamed up nicely, which is a priority for me!  And it left my skin feeling nice and smooth.  The fragrance mist was light and I felt like I was putting on a mild perfume.  It is a great pick me up in the middle of the day.
This trio would make a very nice gift and at only $3.99 each, it's pretty affodable!  You can find bodycology at Walmart and Target.

(1) Koupon Karen reader will win Bodycology Body Lotion, Fragrance Mist and Foaming Body Wash!

To enter the giveaway, use the Giveaway Tools widget below. Email and feed subscribers will need to click-through to the site to enter the giveaway.
As a reminder, comments left on Facebook or Twitter will not be included. You must follow the instructions on the widget about the proper way to enter. Of course Facebook is in no way associated with this giveaway!
Disclosure: I received a Free product for review. My opinions are 100% mine.