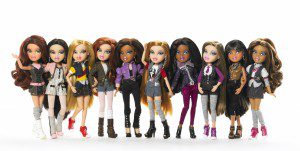 Product Name: Bratz Dolls 10th Anniversary
Product Information: It's the Bratz Dolls 10th Anniversary and they have some new dolls to celebrate!   The Bratz® anniversary line welcomes Carrie™, Adri™, Shira™, Shadi™, Tyla™, Ashby™, Lydia™, Joelle™, Lilliana™, and Leora™ as they join the world's favorite Bratz® pack – Cloe™, Yasmin™, Sasha™, and Jade™ – on October 10, 2010.  Each doll, complete with an individual personality and unique outfit, will feature new points of articulation, making them more pose-able for playtime.
The girls with a passion for fashion™ first exploded onto the scene a decade ago, and young girls everywhere are still keeping up with these stylish dolls. Multi-ethnic, sassy, and chic, the Bratz® became instant icons, with a style that not only kept up with but often set the pace for emerging fashion trends.  Inspired by their message of self-expression and individuality, pre-teen girls couldn't wait to get up close and personal with the new style stars.  These trendsetting fashion icons have unleashed something in young girls everywhere – the passion to be who they are!  For years to come, the Bratz® will always be there exploring new fashion trends to inspire girls around the world.
Carrie™
Adri™
Shira™
Shadi™
Tyla™
Ashby™
Lydia™
Joelle™
Lilliana™
Leora™
Cloe™
Yasmin™
Sasha™
Jade™
My Thoughts: I didn't grow up with Bratz Dolls but I've seen them in the stores.  My girls haven't quite discovered them yet but that has changed now.  I received 4 of the Bratz Dolls 10th Anniversary dolls for our review.  My first thought was these are definitely not Barbie dolls!  These dolls are fashion dolls and they live a high life when comparing them to Barbie.    They make me want to be in my 20's again so I can party with them!
Each doll I received is in full makeup and the outfits are absolutely adorable!  These girls are ready for fun!  I received Jade
who has beautiful long Black hair dressed in jeans, just like I love to dress.  Of course, I don't look as cute as her!  I also received Cloe
who also has amazing long hair, only hers is blonde.  She's wearing those cute socks that go all the way up past your knee and then over the heel on her shoes.  It's adorable.  Of course, she also has a cute skirt and top.  Love her outfit.  Next, there is Yasmin
who is the brunette of the bunch and dressed just as cute.
Product Price: prices start at $9.99
Purchase Information: You can purchase them at most toy stores and online at Little Tikes.
Disclosure: I received FREE dolls for my review.   As always my words are my own and were not influenced by the free products.