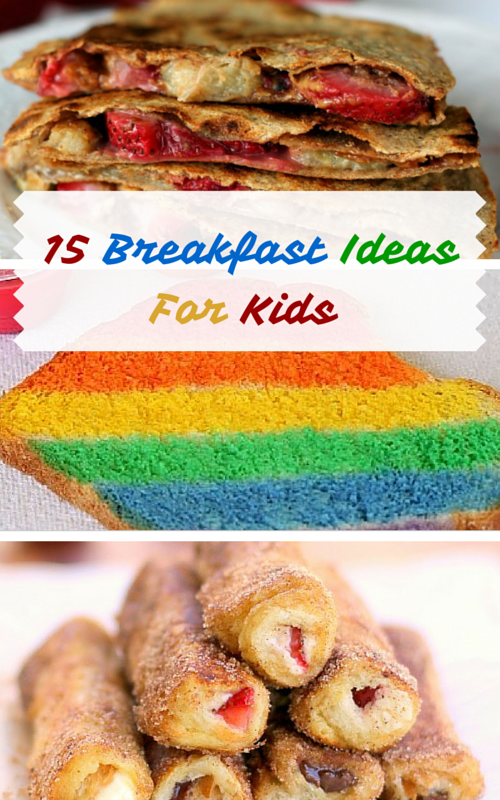 I've seen it in movies and I've seen it in real life.  You finally get the kids up and to the table and they start complaining about what you made for breakfast or everyone is running crazy around you and you just want them to sit down, be quiet, and eat.  With kids, it's easier to get them to do things if they think it's fun and games not responsibilities and chores. Check below for 15 breakfast ideas for kids to make your mornings a little smoother!
15 Breakfast Ideas for Kids
Puppy Face Biscuits | DIY Beautify – What kid doesn't love puppies? Give them a couple of these in the morning and see their faces light up.
Pancake Poppers | Deliciously Yum – Make pancakes easier for kids to eat by making them into the cute little popper balls for the kids to have a little fun with.
Honey Nut Cereal Bar | Martha Stewart – Instead of plopping kids down in front of a bowl of cereal, give them one of these cereal bars. These are also great for on the go breakfast snacks.
Fruity Pebbles Parfait | Raining Hot Coupons – Instead of using milk, use yogurt to mix with your kids' cereal.  I'm sure they'll love the change for a bit.
Yogurt Banana Split | Confessions of a Cookbook Queen – Make your kids think they're getting to eat ice cream for breakfast and you're sure to never hear a complaint!
French Toast Roll-Ups | The Girl Who Ate Everything – Instead of messy french toast with all that sticky syrup, try these yummy roll-ups instead!
Funfetti Breakfast Muffins | The Pinning Mama – Turn those plain old muffins in to a pretty confetti clad delight for your bored little ones in the morning.
Rainbow Pancakes | Her Campus – Try these brightly colored pancakes to turn those typical pancakes into an exciting breakfast!
Rainbow Toast | Learn Play Imagine – Check out this neat way to use milk and let your kids paint their breakfast!
Breakfast Banana Pops | Chocolate Coverd Katie – Give your kids one of these and they'll feel like they're having a popsicle for breakfast!
Rainbow Waffles | Tablespoon – Make these tasty rainbow waffles and your child will think they struck gold for breakfast!
Lucky Charms Pancakes | Betty Crocker – I didn't know pancakes could get any sweeter but this recipe sure did show me a thing or two! This is a neat twist to boring old cereal.
Grape and Banana Dolphin Parfait | Roxy's Kitchen – Spruce of your kids' breakfast by turning it in to a dolphin jumping out of the water! Feeding your child breakfast was never so easy.
Chocolate Fairy Bread Hearts | Polkadot Prints – Let your children help you make breakfast and show them how to make these sprinkled hearts for a toast-like meal.
Peanut Butter Strawberry Banana Quesadillas | Ambitious Kitchen – This healthy meal wouldn't be bad for lunch either! They look cute and are definitely a change to the typical breakfast routine.
Which of these Breakfast Ideas for Kids will you make first?