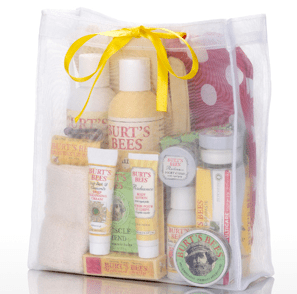 If you like Burt's Bees products you don't want to miss this – Grab this awesome $50 Burt's Bees grab bag for only $20!!  It's a grab bag so you don't know what'll be in it but you can't lose with Burt's Bees products – if you like them then you know this is a good bargain.
Here is the scoop on what's inside –
"You'll get 5 full-sized products; an assortment of mini-size products; and some special gifts! This bountiful assortment includes lip balm, lip shimmer, lotion, soap and more. Contents will vary. All items are sold as is and some may have slight packaging/label related scratches."
The 5 full size items alone would cost close to $20 – and you can separate these items into little gifts if you'd like!
Shipping is $5 unless you spend over $49.
thanks Saving with Shellie.