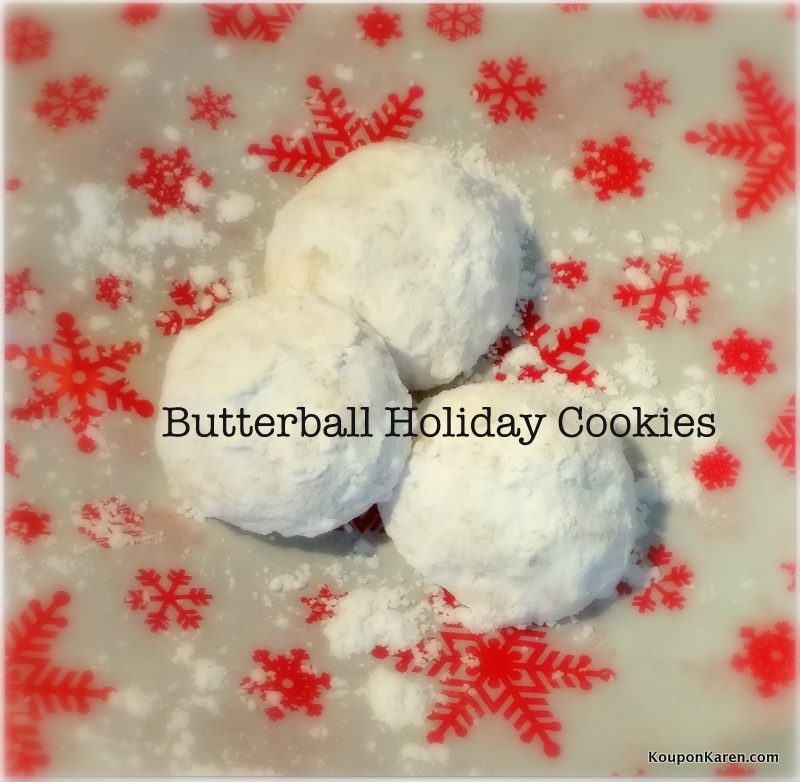 I've been baking!!  I love baking and so does my family.  They all anxiously wait for the taste testing part.  They usually ask me a few times if it's time to taste them yet.  I can't blame them, it's my favorite part too.
I make about 8 different cookies for the holidays but the ones that are the most popular and everyone's favorite is a Butterball Cookie recipe that my mom passed down to me.   The reason why they are called butterballs is that they are made with a lot of butter and no eggs so they have a big butter taste.  And when you combine butter with powdered sugar – they just melt in your mouth!
Make sure you check out my other cookie recipes.
Butterball Cookie Recipe
Over the years I've seen a few variations of this recipe but this is the one my mother has always used and now I've used it for years!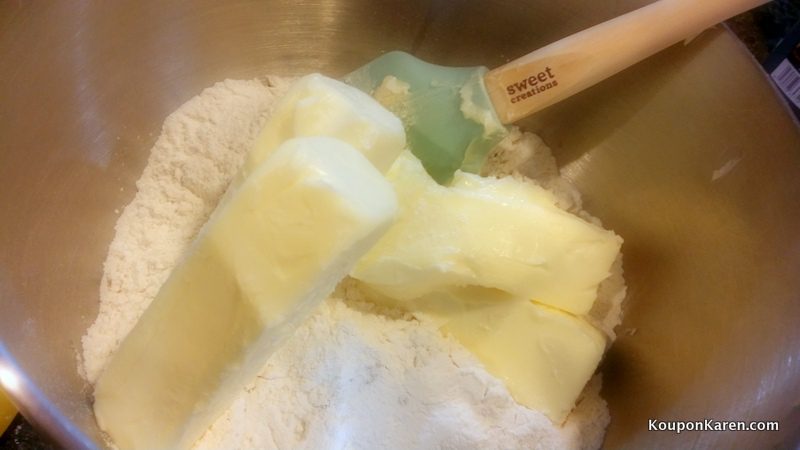 There are 5 ingredients in this Butterball Cookie recipe which makes this one of the easiest recipes ever – Butter, Flour, Vanilla Extract, Baking Powder, and Powdered Sugar.  That's it!  I use my electric mixer because I find it the easiest to mix the butter in well.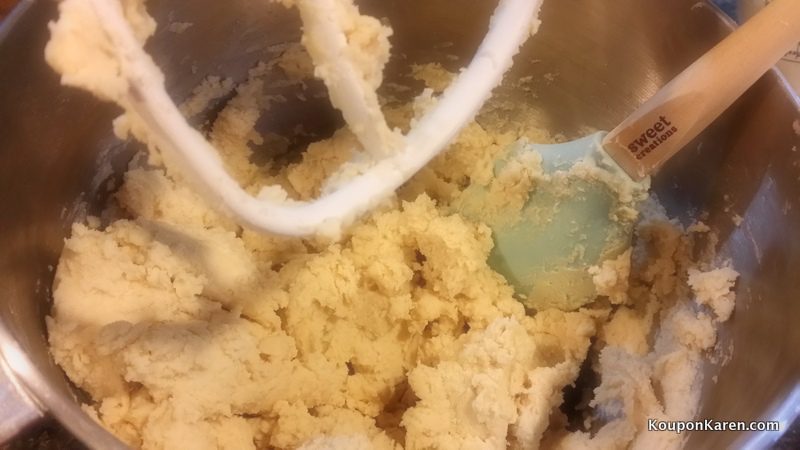 The smell from the bowl is amazing from all the butter and the vanilla!  It's very hard to resist not grabbing a piece of the batter and popping it in my mouth!  Since there are no eggs in this recipe, I'm always tempted!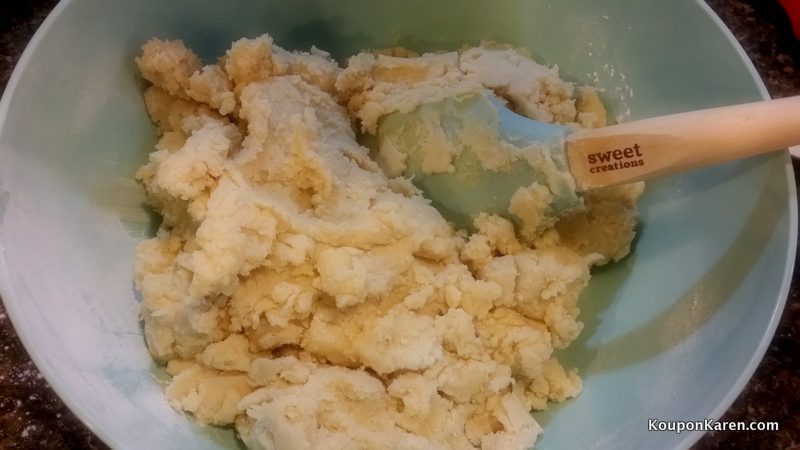 Once it's well mixed I then transfer it to another bowl.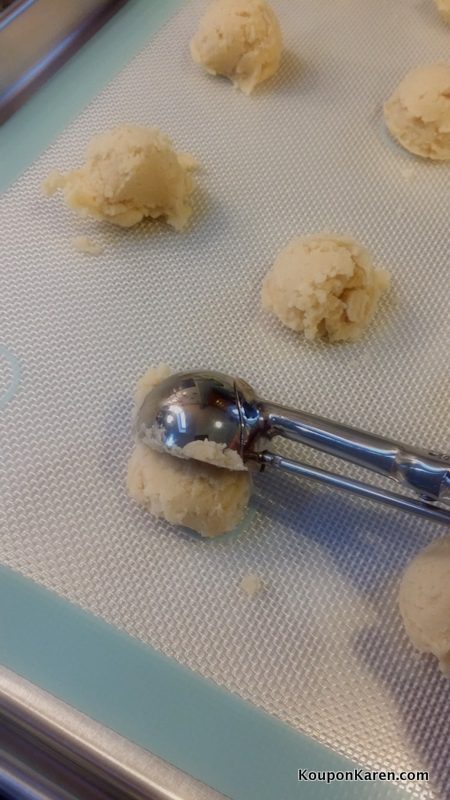 Then I scooped out the dough using my Cookie Dropper so each one would be the same size. I absolutely love this tool and I love how easy it is to use. And since it's stainless steel, I'll never have to worry about it rusting.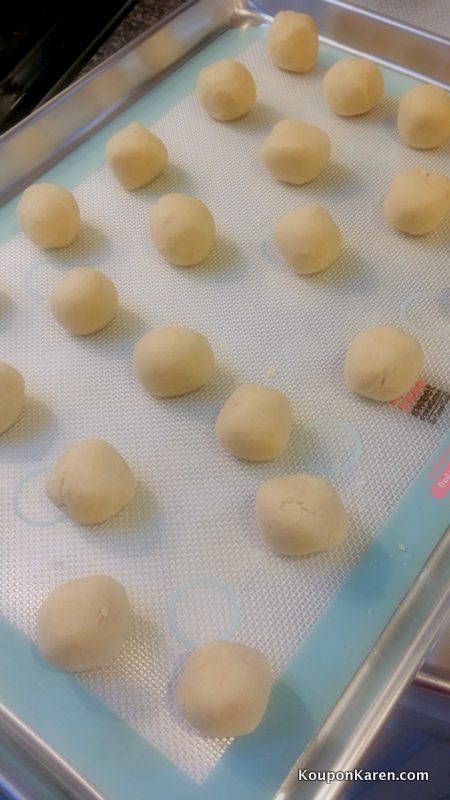 After I scoop them all onto the cookie sheet, I then rolled them so they'll be nice and smooth.  I suppose you could skip this part but I've always done it.  This is a good part for the kids to help me with too.  They love rolling cookies and meatballs and are always willing to help.  These cookies don't really spread out too much so you don't have to put them too far apart so I filled up my cookie sheets.  Actually, I was able to do the entire batch on both of my cookie sheets!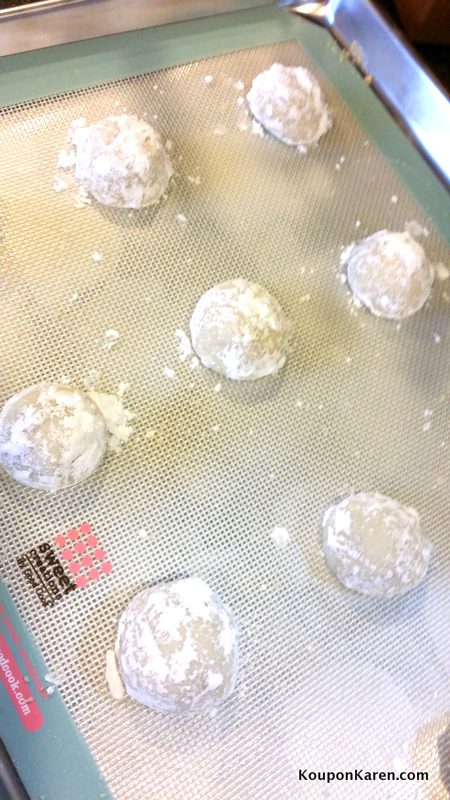 After they are slightly cool,  toss them in a bowl of powdered sugar and coated them.  The first time not a lot of powdered sugar will stick to them, that is okay, it's good to toss them while they are still a bit warm.  Then once they've cooled completely,  roll them again in powdered sugar and then they look like this…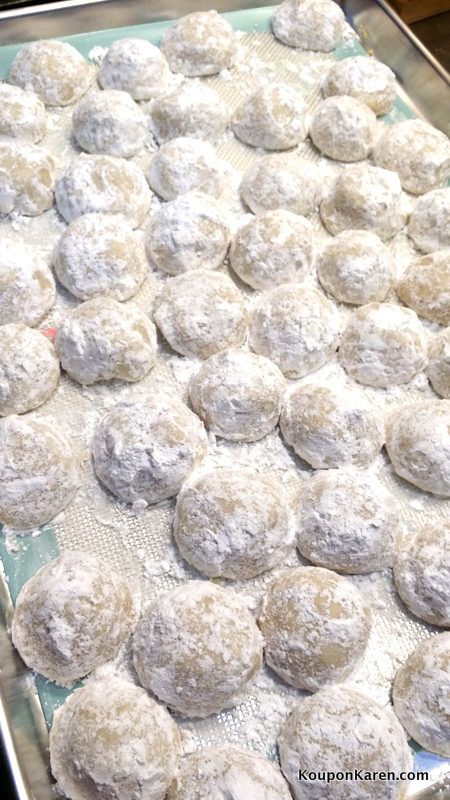 These are just amazing and they seriously melt in your mouth.   Since we have over a week before Christmas, all the cookies I bake that we don't eat right away will go in the freezer until it's time to make cookie plates for our friends and family.  I layer them in wax paper and then put them in a freezer bag.  I've done this for YEARS and everyone comments on how fresh the cookies are even after freezing.  These cookies I do toss in the powdered sugar one more time before plating them after they've been in the freezer.
Below is my mom's Butterball Cookie Recipe so you can try these!
Butterball Cookie Recipe

Ingredients
2 cups Butter (4 sticks) softened, not melted
1/2 cup of Powdered Sugar (confectioners sugar)
1 teaspoon of Baking Powder
2 teaspoons Vanilla
4 1/4 cups Flour
Directions
Mix the butter, powdered sugar, and vanilla well until fluffy.  Then add baking powder and flour and mix until combined well.   Roll balls on a cookie sheet and bake at 350 for 9-11 minutes.  You don't want them to get brown.  Cool for a few minutes then roll them in powdered sugar while still slightly warm.  Set aside to cool completely.  After cooling, roll them again in powdered sugar or before serving.
This week I will finish my baking for the holidays and I'll be not only using the Sweet Creations products I mentioned above but also the High-temp spatula which you may have noticed in the first few pictures, the Flex cookie turner which is the perfect size for using for cookies and these cute (and easy to use) Cookie Cutters.
Make sure you check out my other cookie recipes.