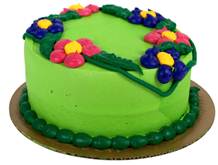 Product Name: Cake Boss Badda Bloom Cake at BJ's Wholesale Club
Product Information:  BJ's Wholesale Club has teamed up with Buddy Valastro – the "Cake Boss" and owner of famous Carlo's Bake Shop in Hoboken, N.J. — to create two cakes that will be available at the 195 BJ's clubs in the 15 states where its clubs are located. Valastro's personal creation exclusive BJ's Fresh Bakery will be called "Da Bomb," a cake made with chocolate layers and caramel icing. He's also creating the "Badda Bloom," a chocolate and vanilla layer cake with butter cream frosting.
Valastro is a fourth generation baker born into a bakery business owned and operated by his parents. He was born in Hoboken and raised in an old fashioned Italian family. Buddy is an accomplished master baker and cake decorator and star of the reality TV series, Cake Boss, which launched on TLC in April 2009 and is now going into its sixth season.
Product Price: $19.99
My Thoughts:  I was able to purchase one of the Cake Boss cakes at BJ's Wholesale club to try out.  I was having a summer party the weekend after I was asked about reviewing it so I figured it would be the best time to get it and share it with my friends and family.
I choose the Badda Bloom because it looked so pretty. Everyone agreed with me that it was adorable and we almost hated to cut it!  But we did!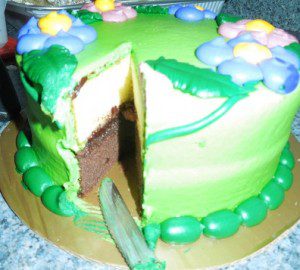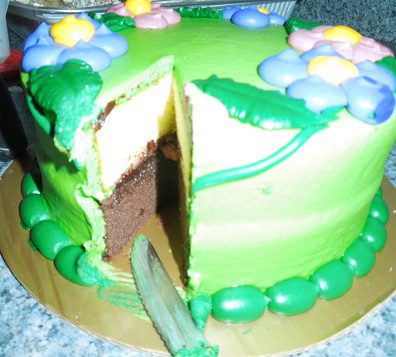 I was really excited to try it because I love cake.  I've had good cake and I've had bad cake.  Good cake to me is super moist and full of flavor.   Bad cake for me is dry cake with a flat flavor to it.  I want my mouth to explode with flavor when I eat cake, especially chocolate cake.  I'm not as big into the frosting though I've been known to dip my finger in frosting before, but the cake is more of what I'm looking for.
I had my first bite and I was a little disappointed.  It wasn't bad but it wasn't AWESOME either.  I was expecting it to be super moist and full of yummy chocolate and yellow cake flavor but it wasn't, at least to me.  So I kept my thoughts to myself and asked more people at the party what they thought to get more opinions.  After all not everyone likes the same thing.
It was pretty mixed.  One of my cousins loved it, thought the cake was yummy and the frosting was divine!  One of my mother's friends is a BIG sweet person and he found it sort of blah like I did.  And then my mother thought it was pretty good.  But her and I talked about which cakes we like from local places and we both liked the opposite types of cakes so clearly our tastebuds are different.
I love chocolate and sweets so when I want cake or cookies, I want them to be full of flavor.  This cake didn't do it for me but maybe the chocolate and caramel Da Bomb cake would be more for me.  I'd be willing to try it out.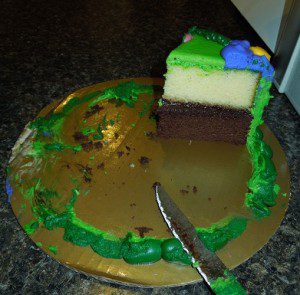 The final result is nobody hated it –  as you can see above it was almost gone! I would probably pick one up if I was heading to a party because it's really cute and everyone gets so excited over the cake boss.  But I really think it's more of who made it then how great it is.  But maybe the awesomeness of it got lost in the mass production of making it for BJ's?? Perhaps that's the problem.  If I'm ever in NJ I'll have to get one directly from the source to see!
Have you tried one yet?  If so I'd love to hear your thoughts.  Please share?
Disclosure: I received a gift card to make a purchase for review. My opinions are 100% mine.