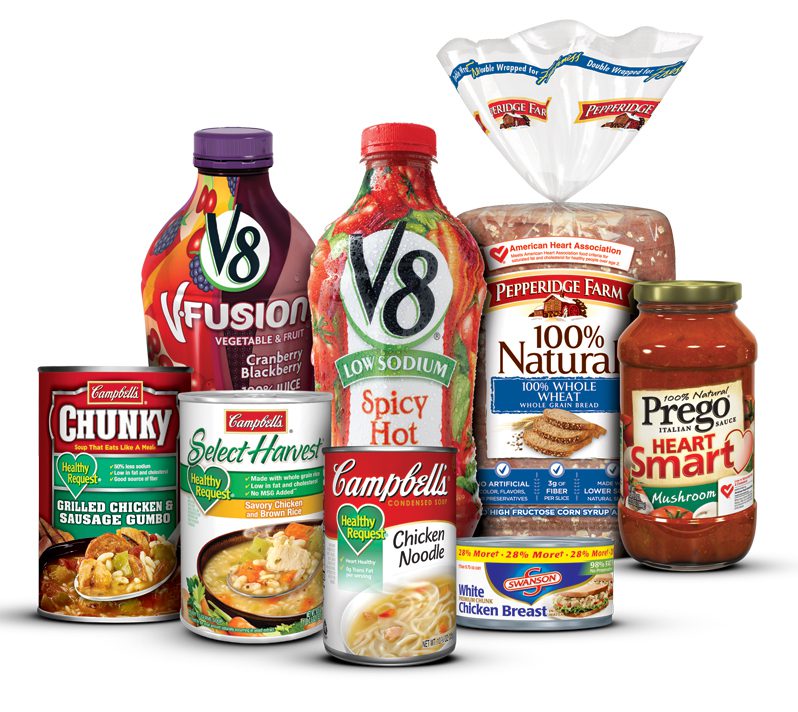 Product Name: Campbell's adDRESS your Heart
Product Information: Campbell Soup Company  brought together fashion and family on the red carpet at the Woman's Day Red Dress Awards in a show of support for the fight against heart disease. As part of the fifth consecutive year of the company's signature "AdDress Your Heart" campaign, Campbell reinforced its commitment to heart health by teaming up with Monica Potter, star of NBC's Parenthood, and NFL Mom Deborah Johnson, mother of defensive end Jay Richardson, both of whom walked the red carpet in Campbell red dresses and talked about their motivation to raise awareness for heart disease, the number one killer of women. "I am proud to be a part of Campbell's 'AdDress Your Heart' campaign and wear this red dress to help raise awareness of the cause and honor my father who I lost to heart disease," said Potter. "I hope to rally moms and everyone across the country to stand up and fight this disease by choosing heart-healthy foods, exercising and helping me spread the message that heart disease is preventable." Potter and Johnson have shared their heart-health stories on video at CampbellsAdDressYourHeart.com and are asking others to address their hearts. For every video view through March 31, 2011, Campbell will donate $1 to the American Heart Association's Go Red For Women movement, up to $625,000. This is part of the overall $3.6 million donation Campbell has committed to the organization by 2012.
I grew up with Campbell's products and still use so many of them today.  I love that they are trying really hard to make products that are good for my family.  Teaching my children to eat right is so hard sometimes so when I find company's who make products that make it easier for me, then I'm all for it.
I received an assortment of products from Campbell's for my review.  A few of the items included some V8 Fusion Juice and a variety of Campbell's soups.   My girls LOVE juice and pretty much any flavor possible.  However they aren't big on eating veggies espeically my little one.  V8 Fusion Juices combine fruits and vegetables and they don't even know it because all you can taste is the juice!  Another favorite is the Campbell's Chicken Noodle soup.  While it's mostly noodles, which my girls LOVE there are bits of chicken and carrots, enough that I'm happy that they ate them and not too many that they don't mind eating them.  Every little bit helps!  And the best part is the one they sent me was low in sodium which is a plus!
And when it comes to soups I agree that homemade is best and probably healthier than some canned soups but at least I know that when I'm in a pinch I can grab a can of Campbell's Select Harvest with it's all natural ingredients and most of them are perfect for a meal.  Just make a salad and some homemade bread and your good to go!
I'm so happy that Campbell's has offered to give one of my readers a prize pack as well.  These are products that we all use everyday and sometimes they help make our busy days a little easier. Those are he products that I love bringing my readers the most!  So now the fun part….
WIN IT
(1) Koupon Karen reader will win a Campbell's Gift Basket similiar to the one pictured below.  The contents may vary a bit.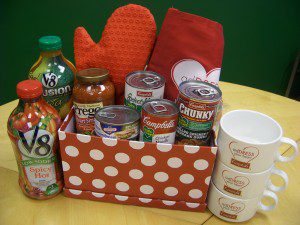 REQUIRED ENTRY
Leave a comment telling me what you do to make sure your heart is healthy.
BONUS ENTRIES:
1. Follow @KouponKaren on twitter
2. "Like" Koupon Karen on Facebook –> I have a new page so if you were previously my "friend on facebook" please like this page as well
3.  Blog about this giveaway.
4. Sign up to receive Koupon Karen daily emails or add me to your favorite reader.
Details: This giveaway is open to US Residents and will remain open until March 10th at 11:59 p.m. EST . Any comments left after this time will not be counted. The winner will be selected randomly and will be notified via email and will have 48 hours to claim their prize.
Disclosure: I received a FREE gift basket from Campbell's for my review. They will also provide the winner with a gift basket.  This did not influence my post and as always, my words are my own.