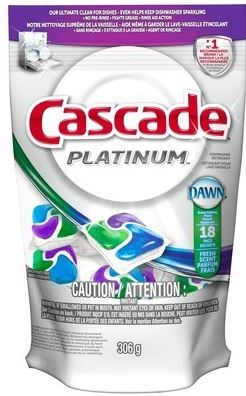 I was walking around Target a couple of weeks ago when I spotted the package pictured above.  At first I thought that Cascade had changed their packaging and then I noticed the word "Platinum" and realized it was a new product!  Naturally I thought to myself "hmm wonder why I hadn't been emailed about this!"  Not that P&G needed to notifiy me of this new product but because as a blogger I'm often told about new products and asked to try them.  Well wouldn't you know later that day I received an email asking me if I wanted to try it!  I should try that next time I see a new car! 😉
Anyways, I use my dishwasher about every other day so I was excited to pop open the package and give it a try especially since I had dishes sitting in there from the night before.  I've always been happy with Cascade, it's one of my go to detergents, especially when I can get a deal on it!  But what I like about this is it says it'll also keep my dishwasher clean.  That's a plus because sometimes it gets pretty nasty after a while.  Especially when we have pasta sauce.
"Cascade Platinum delivers the most powerful clean available from Cascade while simultaneously helping to maintain the sparkling fresh look/scent of your dishwasher."
Whether you're preparing entrees for your first spring dinner party or sweet treats for a Mother's Day brunch, the NEW Cascade Platinumis your best before and after clean up weapon! These easy to use all-in-one detergent pacs will leave your dishes sparkling clean right out of the dishwasher for an impeccable presentation (no clouds or spots to mar your meal). Once you're done serving, dishes can go straight from the table to dishwasher – even if you wait until the next day to tackle your dishes – no pre-wash necessary.
For the ultimate overachiever, Cascade Platinum also helps protect your dishwasher by preventing hard-water film build-up on your machine – the dishes won't be the only thing sparkling!
I am very happy with how well this has worked.  I've used it the past week and my dishwasher has been clean inside as well.  I haven't noticed a big difference on my dishes from the regular Cascade but they have been clean and sparkly so that's really what I'm looking for!

(1) Koupon Karen reader will win some Cascade Platinum.

To enter the giveaway, use the Giveaway Tools widget below. This is a new widget I'm trying and I hope you like it. Please let me know if you have any questions about it or problems with it! Of course Facebook is in no way associated with this giveaway!
As a reminder, comments left on Facebook or Twitter will not be included. You must follow the instructions on the widget about the proper way to enter.
Disclosure: I received a Free product for review. My opinions are 100% mine.