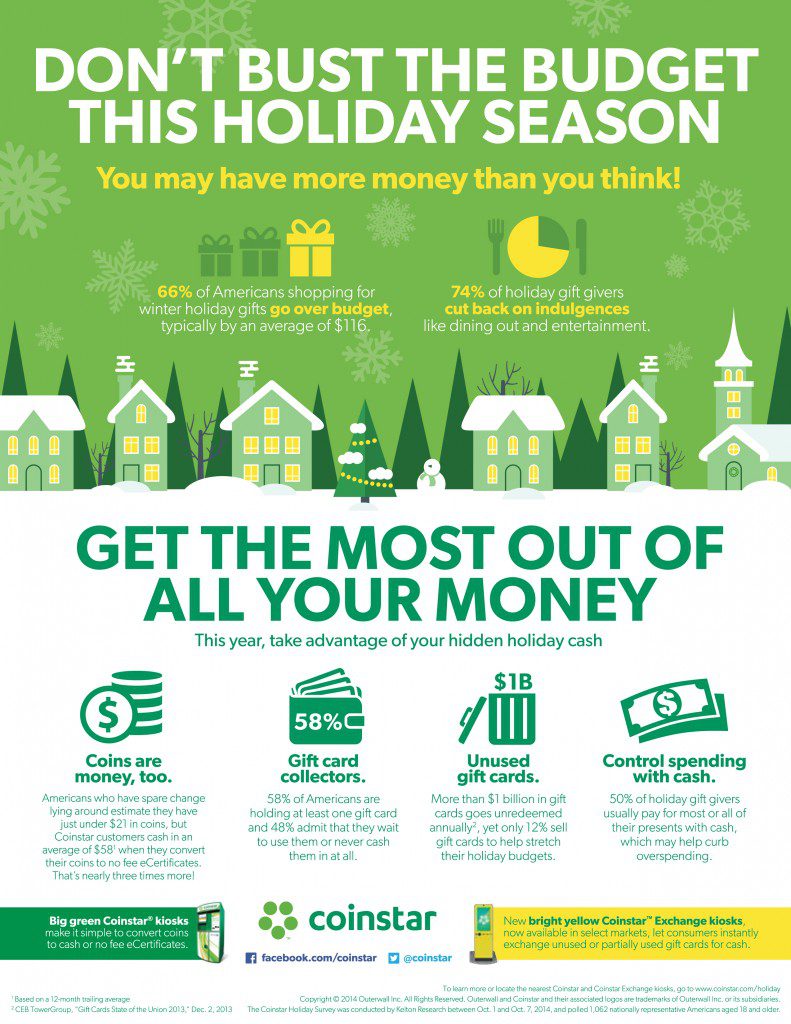 This post is Sponsored by Coinstar but my opinions are 100% my own!
The holiday season is HERE and you may be at the point where you budget is so strapped that you may not even know if you can finish your shopping.   I'm here to tell you today that if you have some loose coins sitting around your house, you can cash them in to Coinstar and pay no fee!
Cash in with Coinstar and get No Fee Gift Cards
I'm sure you've walked by a Coinstar at your local grocery store but probably have never used it.  I can't say I am one that hasn't used it because I have and love how it's right there at my grocery store where I tend to be like all the time!  My husband and I toss our loose change in a tall jar and then when it gets full, I cash it in and we use it for something we've been saving up for.
If you haven't used Coinstar before, let me explain what I'm talking about.  Coinstar is a machine that you can find usually in grocery stores, where you can cash in your loose change and get either cash or gift cards.   Rolling all that coin and then lugging it to the bank would just be a total pain and a lot of time.  I don't know about you but I'm also looking for extra time in my days right about now.  When you use Coinstar there is a small fee but did you know that you can possibly avoid that fee?
You can stretch your holiday budget by cashing in your coins at a Coinstar machine and requesting an eCertficates or gift cards at retailers like Amazon, Old Navy, Toys"R"Us, Starbucks and Nike, without an additional fee.   I love the idea of this because to me that's bonus money since I'd normally pay a fee for my coins.
A recent Coinstar holiday survey revealed that Americans thought they had $21 in change, while Coinstar kiosk data showed that the average pour for the no fee eCertificate option was $58 – nearly triple what people thought they had!
For us, because we toss our coins into that jar, we don't even think about having it.  So when we cash in our coins it's total bonus money!  And if I can do it without a fee and get an eCertificate, I'm totally doing that instead!
How do you get a gift card or eCertificate?
At the kiosk, choose "Get a gift card or eCertificate" and pick the brand you want.
Pour your coins in. Many kiosks also take bills.
Your gift card or eCertificate is ready to use the minute you get it!
Their gift cards and eCertificates are paper receipts with a unique code. They work just like physical gift cards. Use your code when you pay at the store or when you're shopping online.
Ready to cash in your money?  Find a Coinstar kiosk near you and let me know how you make out!
Be sure to follow Coinstar on their social media channels:
Also wanted to give you quick links to Coinstar's Facebook and Twitter for tagging in your social media posts.
Disclosure: I received a Free product for review. My opinions are 100% mine.