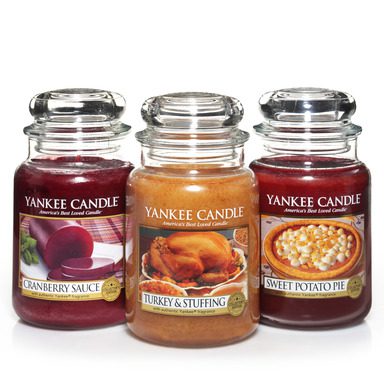 This post is Sponsored by Yankee Candle but my opinions are 100% my own!
I love Yankee Candle and how they keep coming out with all sorts of new scents and even seasonal ones.   And the fact that they aren't always the same each year and just 'brought back' makes me love them even more.   It's always something different!   But this time Yankee Candle is doing something else that I love, they are giving back to the military through a partnership with the USO.  I'll get to more of that shortly but here is a bit more about what you can find in their Thanksgiving Dinner Collection:
Turkey with Stuffing – A mouth-watering holiday tradition … plump, butter-basted turkey and savory stuffing filled with celery, carrots and herbs.
Cranberry Sauce – It wouldn't be Thanksgiving without the classic, tangy sweet goodness of jellied cranberry sauce.
Sweet Potato Pie – A crave-worthy delight … yummy mashed sweet potato filling baked with nutmeg and vanilla.
As only Yankee Candle can, the company has brought delicious traditions to life to commemorate the most celebrated meal of the year.  We received all 3 scents and for some fun, I let my girls and their friends try and guess what the scents were.  I told them they were Thanksgiving Dinner candles so they should think about what they eat at Thanksgiving.
Surprisingly the only one they guessed right was Cranberry Sauce – and it was described as that red stuff that looks like jello that you get out of a can!  LOL  I loved that.  I figured they would have guessed that to be a dessert because of how sweet it smelled but they were right.   The Sweet Potato Pie stumped them because none of them had ever had it before but I thought it smelled amazingly like sweet potatoes.  And the Turkey with Stuffing was exactly how my house smells when making a turkey.  They were all right on and true to the scent name and we loved them.   These would make great hostess gifts for the Thanksgiving Holiday!
In the spirit of the holiday the collection celebrates, Yankee Candle will donated one dollar to the USO for every large jar candle or tumbler candle sold of new fragrances Turkey with Stuffing, Cranberry Sauce and Sweet Potato Pie from September 30th through October 31st.  The donations will help support the USO's Holiday Box program, which brings a touch of home during the holidays to troops serving overseas. Filled with items such as decorations, games, snacks and much more, the boxes provides them with a little holiday cheer at a time when they cannot celebrate with their families. Thank you postcards will also be available in Yankee Candle's 561 stores nationwide, which customers and employees can fill out to be sent to troops around Thanksgiving as a thank you for their services. In addition to the donation, Yankee Candle will include autumn scented Car Jars in the USO 2013 Holiday Boxes.
If you are looking to fill your home with the fragrance of a Thanksgiving feast as you prepare for the beloved holiday, you can purchase the limited edition fragrances at more than 561 Yankee Candle retail stores, www.yankeecandle.com and select specialty retailers and gift shops while supplies last. You can check out and share your excitement on twitter by following #YCTurkeyDinner.
The Large Jar Candles sell for about $27.99 each and the Tumbler Candle sells for about $17.99 each.

(1) Koupon Karen reader will win a set of all three Thanksgiving Dinner Collection Yankee Candles!

To enter the giveaway, use the Giveaway Tools widget below. Email and feed subscribers will need to click-through to the site to enter the giveaway.
As a reminder, comments left on Facebook or Twitter will not be included. You must follow the instructions on the widget about the proper way to enter. Of course Facebook is in no way associated with this giveaway!
Disclosure: I received a Free product for review. My opinions are 100% mine.