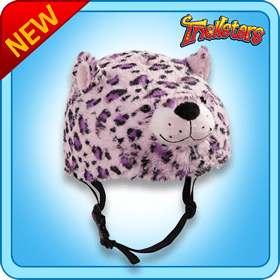 This post is Sponsored by Tricksters Helmets but my opinions are 100% my own!
Spring is here which means we are outdoors a lot more and that means the girls will be riding their bikes.  Time to talk about bike safety.  We live in a neighborhood set back a few streets from the main road but there is still a good amount of traffic that comes by our house.   So I make sure that I'm outside when the girls are riding their bikes and we always practice safety as well.   They have a certain area on our street they can ride to and from since they are still too young to ride off without me on their own.  One of my daughters still has her training wheels on her bike, which I'm hoping to get off this year.
But they know that Bike Safety is VERY important or they can not ride, even if they don't leave the front of my house.  I figure that if I get them into the habits of being safe, then when they are a bit older and ride away from my house, I will feel confident that they will be safe.
Did you know that May is Bike Safety month?  So it's a good time to sit with the kids and go over the rules.  Here is what I teach my kids:
Always wear a helmet!  And make sure it fits properly too.  Just because you have one on doesn't mean it will protect you, it must fit your head.   Each season we check to see if they have outgrown their helmet and get the new ones!
Always stop at stop signs,  even if it's a 4 way stop sign. You never know who will run that stop sign.
Always stop when a car is coming.  Since they are still young, I prefer that they just stop while the car goes by and stand by the side of the road.  As they get bigger I may not require them to stop but just pull to the side.  But right now this works for us.
Pay attention to what's going on around them at all times, especially when they are riding with friends.
Stay off people's grass!  I don't want them riding onto any of our neighbor's grass!  😉
To help parents in their perpetual battle to get kids to want to wear a helmet, Pillow Pets has introduced a new line of Tricksters Helmets which feature kids' beloved plush Pillow Pets characters.  Not only are these adorable, but they are very easy to adjust to fit your child properly as they have an adjustable dial to ensure a perfect fit.  They are also safety-certified for not only bicycles, but boards, rollerblades, and scooters.  Tricksters Helmets not only make bike safety fun, but are a great way for children to take their favorite Pillow Pets character with them on the go!
We received the Lu-Lu Leopard for our review and my 9-year-old LOVED it!  I actually thought she wouldn't and she'd give it to her sister but nope, I was wrong.  She immediately put it on and hasn't stopped wearing it since.    I must say she looks adorable in it too.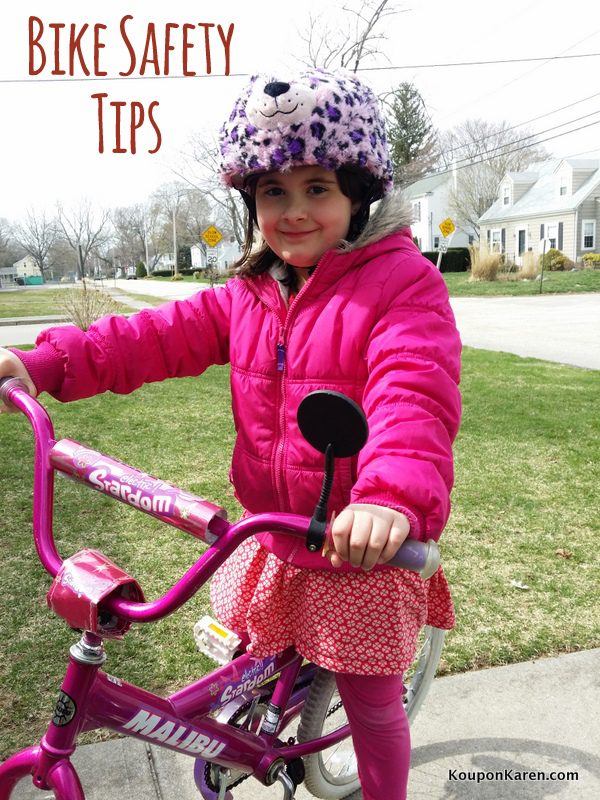 There are a few styles to choose from and they are all equally adorable!  I am going to get another one for my younger daughter as she grew out of her helmet over the winter and her sister's old one is too big for her.  She's been borrowing a neighbor's helmet until we get her one too.
The Trickster Helmets retail for $29.99 and are in stores nationwide.  Also, all five Trickster Helmets can be purchased on Amazon.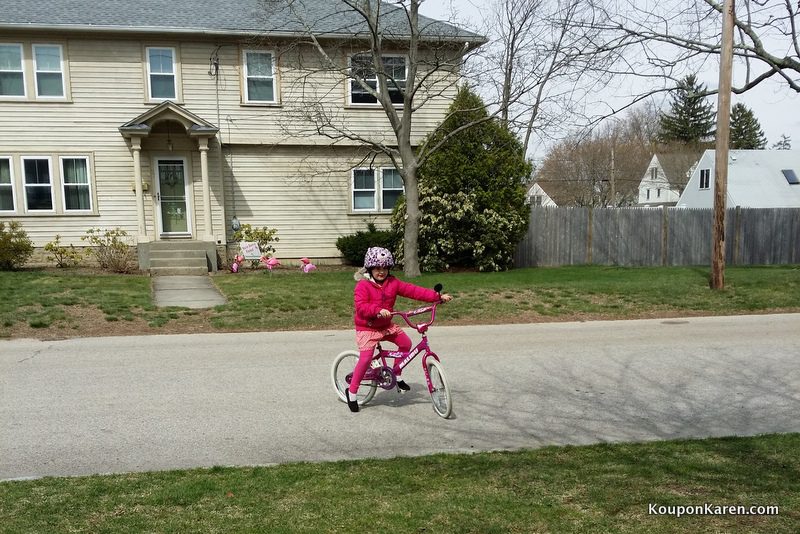 Yes, we ride bikes in dresses but put leggings on underneath.  My girls live in dresses!
There are a lot more rules for being safe on bikes than I listed above.  Those are rules we talk about all the time but remember, my kids, are only riding on a back road in front of my house with me right there.  As they grow, we'll discuss more safety issues.
Bike Safety Tips
But a few more important tips for being safe on bikes are:
Adjust Your Bicycle to Fit.  Make sure the seat and handlebars at the proper height according to how tall or short you are.  Some bike stores will even help you adjust them to fit your child.  Doesn't hurt to ask!
Check Your Equipment. Before riding make sure the tires are properly inflated and the brakes work!
See and Be Seen. Not only do you need to see everyone around you, but they need to be able to see you.  Whether daytime, dawn, dusk, foul weather, or at night, you need to be seen by others.  Wearing clothes with colors that are easily spotted can help.
Control Your Bicycle at all times.  Never take both hands off the handlebars.  As 'cool' as this may be, it's not safe.  Always ride with at least one hand on the handlebars. Carry items in a bicycle carrier or backpack and not in your hands.  You never know what kind of Road Hazard you may run into.  For example potholes, broken glass, gravel, puddles, leaves, and dogs are just a few things.
Avoid Riding at Night. It is far more dangerous to ride at night than during the day because you are harder for others to see.   This is one thing we never do and my kids don't even ask anymore because they know the answer.
Obey All Traffic Laws.  Just because you aren't in a car,  you still need to obey the laws when you are riding in the street.  The laws are in place to protect all people on the road, no matter how they are riding.
Stay Alert at All Times.  It's one of the most important things I tell my kids.  But not just with your eyes but your ears too.  Listen to what's going on around you and behind you too!
Look Before Turning.  Always, always ALWAYS look before you turn, whether you are turning left of right, it's SO IMPORTANT.  And signal with your hand that you are about to turn that way so people around you know.
It is also recommended that Children less than 10 years old are better off riding on the sidewalk. I totally agree with that having a 9-year-old. She is not ready to ride in the road along with traffic. However, some states have laws against sidewalk bike riding. Check with your states because this brings up a whole other side of safety rules because of cars pulling in and out of driveways and such. This is why I tell my kids to always pay attention to what's going on around them when on a bike!
Disclosure: I received a Free product for review. My opinions are 100% mine.