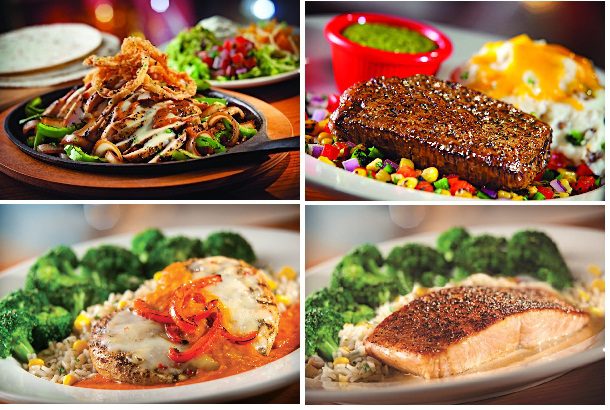 Product Name: Chili's Pick-A-Pepper Menu

Product Information:  You can stop in at your local Chili's to try the new menu selection known as 'Pick-A-Pepper.' They are letting guests know there's more to chile peppers than just spice. From sweet to heat, we're showcasing a new line of dishes displaying the versatility and multiple flavors of chiles.
We're putting a 'pepper guide' in each new menu to educate our guests on the range of pepper flavors Chili's can offer to our guests. While outlining the heat level and specific pepper flavors, we're offering an easy-to-follow guide along with the new menu descriptions.
These yummy menu items include:
Smoky Chipotle Chicken Fajitas – Sizzling grilled chicken, sautéed onions and bell peppers kicked-up with chipotle pesto sauce and melted Monterey Jack cheese. Topped with crispy onion strings
Santa Cruz Steak – 100% USDA Choice 6 oz. sirloin topped with seasoned butter and a side of tangy verde sauce. Served over fire-roasted corn salsa with jalapeño-cheddar mashed potatoes.
Roasted Red Pepper Grilled Chicken – Grilled chicken breast served over a zesty roasted red pepper cream sauce. Topped with melted pepper Jack cheese and served with rice and steamed broccoli.

Chipotle Salmon – Seared Cajun-spiced salmon with a smoky chipotle-garlic pesto cream sauce. Served with rice and steamed broccoli.
The Santa Cruz Steak, Smoky Chipotle Chicken Fajitas and Roasted Red Pepper Grilled Chicken are even on our 2 for $20 menu as a great offer for guests, so stop in to try these soon-to-be Chili's favorites!

My Thoughts:  We love Chili's and I was more than happy to check out their new menu items.   We received a gift card so my family and I could 'pick-a-pepper' and we went on a night that kids ate free so it was an inexpensive night out.  I was excited to see some of these offerings on the 2 for $20 menu too but my husband isn't a pepper guy so we didn't take advantage of that, but it would of been a really great deal if we had.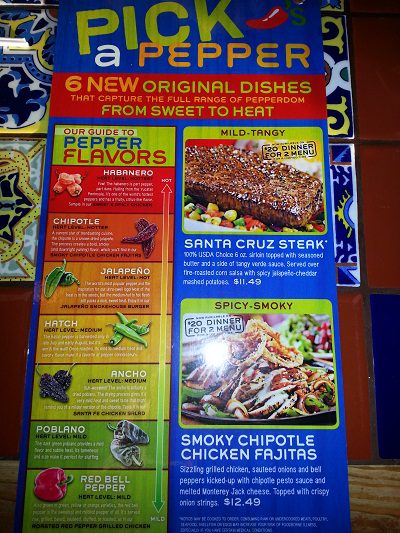 The guide to Pepper Flavors was really interesting. I had no idea that the Chipotle pepper was really a smoked dried Jalapeno pepper or that the Ancho pepper is really a dried Poblano pepper.  Actually I had never heard of either the Ancho or the Poblano peppers before!  But it was pretty cool to read up on them all and learn of their heat levels!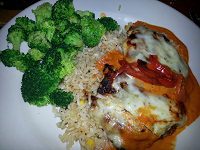 All of the dishes looked great, as you see in the first picture and I finally settled on the Roasted Red Pepper Grilled Chicken and let me tell you it was delicious.  I loved the red pepper cream sauce, it went really well with the melted pepper jack cheese.  I would totally get this dish again.
My oldest loves their Quesadillas and my youngest loves the pizza.  Go figure – we go to Chili's for Pizza!  And my husband got the Cajun chicken pasta which he loved.  The Cajun seasoning was a little too spicy for him (he likes very mild seasonings) but it didn't stop him from eating it all!  It comes with an Alfredo sauce and he thought it was really good.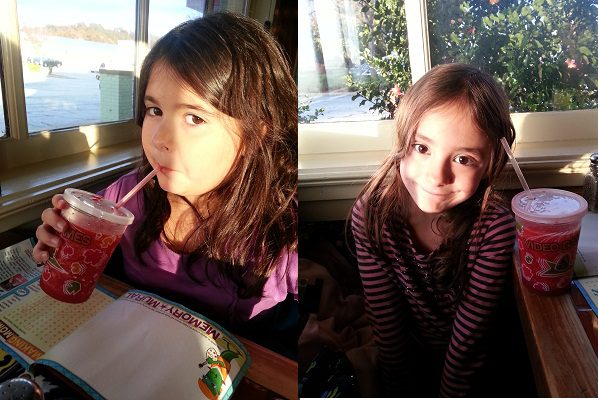 We loved our meals and I like the Pick-A-Pepper menu.   Hoping to go back again soon and try another dish!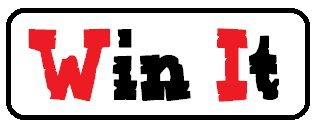 (1) Koupon Karen reader will win a $25 Chili's Gift Card

To enter the giveaway, use the rafflecopter widget below. You can now sign in with Facebook and it will remember you each time you enter another rafflecopter giveaway. Of course Facebook is in no way associated with this giveaway, the people of rafflecopter just want to make it easier for you to enter giveaways now.
As a reminder, comments left on Facebook or Twitter will not be included.
Disclosure: I received a Free product for review. My opinions are 100% mine.