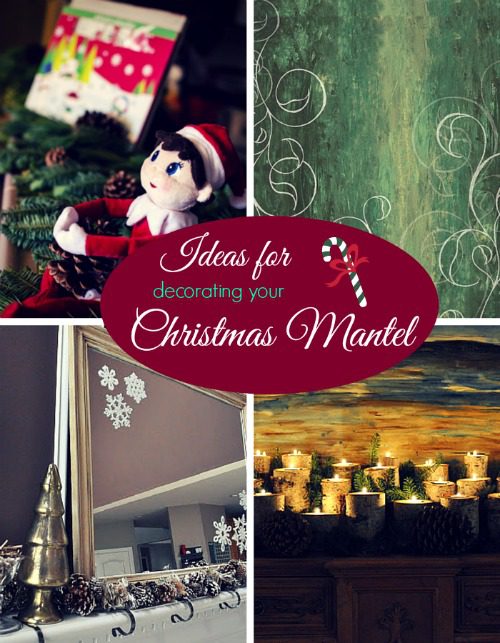 Christmas Mantel Ideas for your Home
I'm always looking for Christmas mantel ideas.  I have two mantels in my house and plenty of decorations for them to look different.  It's seriously one of my favorite things to do besides decorate the Christmas tree, is to decorate my mantel.  One of them was the first thing I did this season too!  We didn't even have our tree up but I still decorated it.   That being said, I'm not into super fancy decorations.  I wish I was but I don't have an eye for it.  So I like to drool over other peoples mantels while going through Pinterest.
Here are some of my favorite Christmas Mantel Ideas that I wanted to share with you.
Snowflake and Mercury Mantel | Just Us Four – Decorate your mantle with a flurry of snowflakes and silvery décor for a bright white and shimmery look!
Elf on the Shelf Mantel | Nina Says – Make the mantle decorations about the kids this year and make your theme elf on the Shelf!
Candles | Life Over Easy – Turn your mantel in to a sea of candles! When all of them are lit at night, it will give it a wonderful glow in your house!
Burlap and Reclaimed Wood | The Lilly Pad Cottage – Go with a rustic look and decorate your mantel with burlap and a reclaimed wood sign!
Whimsical Christmas Mantel | Home Talk – Although I'm not sure why this is called whimsical, this is a classic Christmas look in my opinion! A lot of reds and greens with old fashioned looking décor. This is the direction I would lean when decorating my mantel!
Rustic Glam | Yellow Bliss Road – Go with white as your main color and hang a gorgeous classic wreath above your mantel!
Garland Mantel | Style Estate – Go overboard on your use of garland and only use little accents here and there for a simple but cute look! Don't forget the lights!
Deck the Halls | Four Generations One Roof – Why not try super bright colors such as pink and purple with a theme of polka dots for your mantel?
Snow House Village | My Shabby Streamside Studio – If you're dreaming of a white Christmas this is the mantel for you! Give your mantel a winter wonderland makeover!
Kringle Scarf | Grandin Road – Go with triangles and a sort of English look with this mantel scarf!
Natural Greens | Southern Living – Instead of fake greenery, go with natural and real greenery!
Faux Mantle | HGTV – If you don't have a fireplace or mantel to decorate, make your own that's easily removable after the holidays!
Nativity Mantel | Eclectically Vintage – Why not go with the classic nativity scene look for your mantel this Christmas?  They're always a hit!
Which one of these Christmas Mantel ideas will you try?