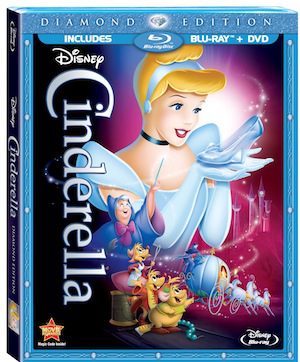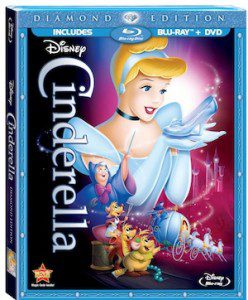 Product Name: Cinderella:Blu-ray Diamond Edition
Product Information: "A Dream Is a Wish Your Heart Makes," and at the stroke of midnight, October 2, 2012, dreams around the globe really came true when The Walt Disney Studios opened its prestigious vault to release one of Walt Disney's most timeless and beloved masterpieces of all time, "Cinderella," in the highly anticipated Blu-ray™ Diamond Edition Collection.
This enchanting classic comes alive in stunning fashion for in-home viewing for the very first time on Blu-ray high definition with enhanced picture and sound, once again being embraced by new and old generation alike and only available … as long as the spell lasts.
The "Cinderella: Diamond Edition," with its spellbinding storyline, memorable music, unforgettable characters and spectacular animation, sparkles like never before with a wide-array of bonus features that extend the viewing experience for the whole family to enjoy including never-before-seen material, family-friendly interactive activities, games and more.
About Cinderella:
Everyone orders Cinderella around: her cruel stepmother, her awful stepsisters — even the big clock in the church tower tells her when to start another day of drudgery. But they can't stop her from dreaming, and Cinderella has faith that someday her wishes will come true. When an invitation to the royal ball arrives, Cinderella is sure her time has come — until her stepsisters, with the encouragement of Lady Tremaine, tear her gown to shreds. Just when Cinderella believes all is lost, her Fairy Godmother appears, and with a wave of her wand and "Bibbidi-Bobbidi-Boo," transforms an ordinary pumpkin into a magnificent coach and Cinderella's rags into a gorgeous gown, then sends her off to the Royal Ball. But Cinderella's enchanted evening must end when the spell is broken at midnight. It will take the help of her daring animal mice friends and a perfect fit into a glass slipper to create the ultimate fairy tale ending.
Be sure to "Like" the Cinderella Facebook page!
My Thoughts:  Everyone knows the story of Cinderella.   A lot of movies have been based on this story as well and those are some of my favorite love stories!  It's also the perfect movie for little girls because it gives them hope of happiness.  I know sounds corny but it's true.  Every girls dream is to be like Cinderella (not the part where she was taken advantage of though that's a reality for a lot!) but that dreams really can come true – and they do with hard work and determination which is really part of the story.
I am so excited this is out on Blu-ray because we've come to love blu-ray movies!  Not only is the picture quality better, but there are so many other features about a blu-ray (like it remembering where you are when you go back to a movie you started yesterday) that gives us so much more than the movie.  Including the Tangled Ever After Animated Short – which we loved.  My girls are really into Tangled right now so they were tickled pink by this!
Another thing on the Blu-ray disc that the girls absolutely loved was Behind The Magic: A New Disney Princess Fantasyland – they love going behind the scenes at Disney and was super excited to see this!  Now of course we can't wait to go back to Disney!!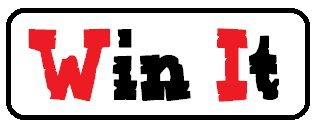 (1) Koupon Karen reader will win a Cinderella: Blu-ray Diamond Edition!!

To enter the giveaway, use the rafflecopter widget below. You can now sign in with Facebook and it will remember you each time you enter another rafflecopter giveaway. Of course Facebook is in no way associated with this giveaway, the people of rafflecopter just want to make it easier for you to enter giveaways now.
As a reminder, comments left on Facebook or Twitter will not be included.
Disclosure: I received the same prize as the winner for review. My opinions are 100% mine.