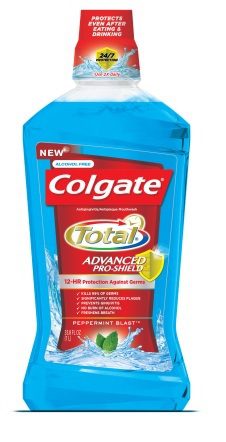 This post is Sponsored by Colgate-Palmolive but my opinions are 100% my own!
If you have been a Colgate fan for a while you probably already use the toothpaste and the toothbrush.  Well if you've been reading my blog a lot you've seen me talk about deals for a NEW Colgate mouthwash so now you can complete your daily routine with Colgate Total® Advanced Pro-Shield™ Mouthwash.
The NEW Colgate Total® Advanced Pro-Shield™ goes beyond freshening breath to provide 12-hour protection against germs, even after eating and drinking.  It kills 99% of germs on contact and significantly reduces plaque – keeping your mouth feeling healthy and fresh.
I received some samples of Colgate Total® Advanced Pro-Shield™ Mouthwash and I have used it everyday since I first received it.  I actually have bought more because I really like it.  It has a nice clean fresh scent that makes my mouth feel great afterwards.  I have used others and I've liked others but this one is now my favorite.  It doesn't burn my mouth and it makes my teeth feel clean.  I am so glad they finally added this to their line up of Colgate Total oral care products.
It comes in 3 great tasting flavors which include Peppermint Blast™, Spearmint Surge™, Wintermint Rush™.  My favorite is the Peppermint Blast™.  It's currently available at mass retailers, drug and grocery stores nationwide and sells for $3.49 – $5.99.
Have you tried it yet?

(1) Koupon Karen reader will win a Colgate Total® Prize Package which includes the Toothbrush, Toothpaste and Mouthwash along with a $100 Amex Gift Card!

To enter the giveaway, use the Giveaway Tools widget below. This is a new widget I'm trying and I hope you like it. Please let me know if you have any questions about it or problems with it! Of course Facebook is in no way associated with this giveaway!
As a reminder, comments left on Facebook or Twitter will not be included. You must follow the instructions on the widget about the proper way to enter.
Disclosure: I received a Free product for review. My opinions are 100% mine.