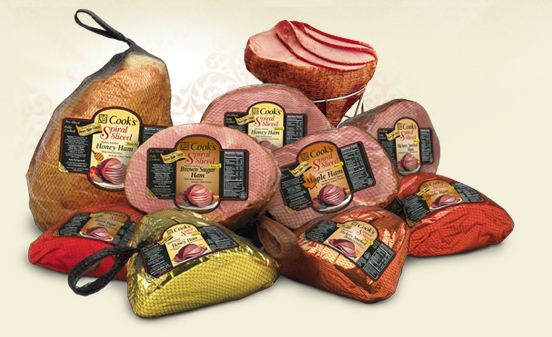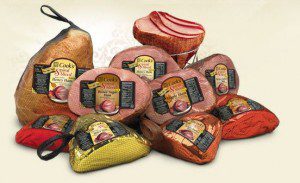 Yesterday I spent a portion of the day in Latham, NY at Price Chopper with the great gals of Cook's Ham and Price Chopper.  I totally didn't mind the 3 hour drive there and back, it was well worth it.  Plus it was quiet time for this mommy in the car, alone!!!
I was told there would be some cooking demonstrations, some taste testing and a supermarket challenge.  Sounded like fun to me!!
I was one of 9 bloggers there and I was very excited to meet some new people.  I now have new blogs on my reader.
OK, so onto the event.  The gals from Cook's Ham cooked a spiral ham and then showed us a few ways to use it, first as a meal and then as leftovers.  Their ham looked so much better than mine does when I've cooked one.  It looked so yummy in the ham holder and I couldn't wait to try a piece.  Here is what we sampled from the spiral ham:
The ham itself!  It was so good.  The glaze was a raisin chutney glaze and oh so yummy!
Ham Paninis – Ham, Provolone Cheese, Roasted Red peppers and black olives.  Interesting combination huh?  Well it was absolutely delicious!!
Ham Taco's – Crescent rolls, Ham, Provolone Cheese, Apple Slice and some Dijon mustard.  Again, this was delicious!!
Then she cooked up a ham steak on the George Forman grill.  I couldn't believe how juicy the ham steak was.  Here is what we sampled from the ham steak:
The ham steak itself.  Amazingly juicy.  I need to figure out what I'm doing wrong because mine don't come out that juicy.
Pasta salad with Ham, Broccoli, Zucchini, grape tomatoes and Italian dressing.  There might of been something else in there, can't remember.  Of course it was delicious too!
As you can see I enjoyed everything and I really need to cook ham more often.  I'm actually going to buy one today for dinner, then freeze the rest for the above yummy dishes.
Then we did a fun shopping cart challenge.  We needed to go shopping for all the ingredients for 3 different meals with a spiral ham.  We were given a budget of $100 and 15 minutes.  Now I'm a very simple cook and don't cook with ham too often so I was completely stumped.    But as I walked around the store I managed to come up with 3 simple dishes which included ham and I only spent $37.00!!!  The simple frugal girl in me is always there.
The 9 of us shared our dishes and I got so many great ideas.  Needless to say mine were the simplest BUT I won a prize for having the simplest meals so it paid off in the end.  I won a Cooks Ham Apron  a Spiral Ham Holder  and a Cooks Ham Carving Knife and Fork.
Before I knew it the 3 hours were up and it was time to go home.   Cooks gave us a bag of goodies along with a coupon for a ham and Price Chopper also gave us a bag full of goodies from their Central Market Classics line.
The entire ride home all I could think about was how I wanted more ham.  LOL
For those of you who read this entire post, here's a preview for you :  In the upcoming days I'll be giving away some Cook's Hams!! Just in time for the Easter Holiday.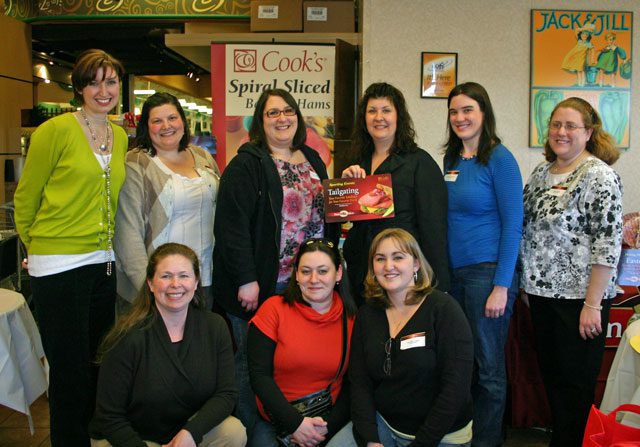 Here are the other bloggers that attended the event.  Check them out!
Disclosure:  Cooks Ham and Price Chopper did not ask me to blog about the event.  I decide to share it with my readers.  They also supplied me with free food at the event and also some free groeceris and fun goodies!  I was not compensated in any other way and my words and thoughts are my own.