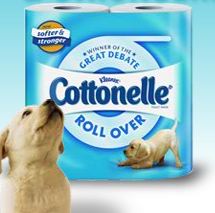 Cottonelle recently took a poll to find out which way America likes to roll their TP – Over or Under.  It's quite the debate in some households especially in mine.   I found it interesting to know that we aren't the only ones that have this conversation or argument.
My husband is a roll over kind of guy and I'm a roll under kind of gal.  For me it's just seems easier to grap and pull it when it's rolling under.  Other's claim it's easier to grab while rolling over.  I personally think it's all in the way we learned.  I came from a house of roll unders so of course it's going to be easier if that's the way I learned, right?
My husband is teaching our 5 year old that rolling under is wrong and therefore mommy didn't put the roll on correctly.  She thinks it's funny and likes to tell me that I did it wrong.  It's cute.
Well the Great Debate has ended (though it will continue in my house) and the preferred way is to Roll Over.  But please don't tell my husband that he wins, or I'll never hear the end of it (this is the one time I'm glad he doesn't read my blog on a regular basis!).
So does this work for you?  If you were a roll under person, are you now going to be a roll over person?  I'm curious to know if you will change.
As part of a Blog Tour with Mom Central, I was sent a 4 pack of the NEW Cottonelle paper which they say is stronger and softer.  I did notice a bit of a difference and was very happy with the softness.  I do not like a rough piece of TP!   And it is bit stronger than others I've used.  Nothing worse then when the paper rips mid pull (or mid wipe eek!).
"I wrote  this review while participating in a blog campaign by Mom Central on behalf of  Cottonelle and received a sample to facilitate my candid review. Mom Central sent me a gift card to thank me for taking the time to participate."