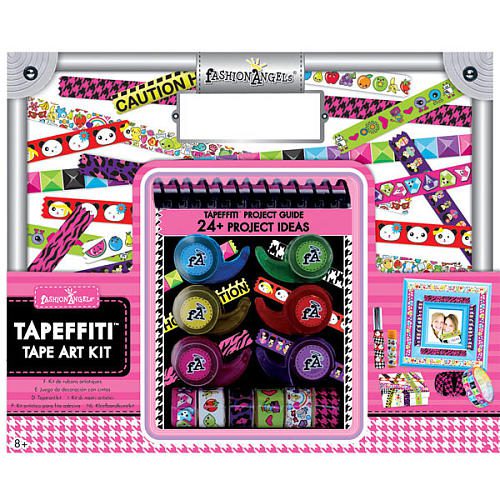 My girls love playing with tape…. just plain ole tape.  They will cut pieces of paper and tape them onto another piece of paper to create a collage or another picture.   It's cute and while the tape is pretty much wasted on what they use it for, they have fun and on a rainy day they need something to keep them busy…. so it works.
Well now that has all changed with Tapeffiti because this tape can be used to create all sorts of fun things.  I have a feeling that they are going to have lots of fun with this over Winter Break and it'll probably be all used up by the time they get back to school!  But it'll be fun and creative so I'm all for it!
Forget plain boring tape in your next craft project, try Tapeffiti™ by Fashion Angels Enterprises®. The NEW Tapeffiti™ Tape Art Tote Kit includes a fab design guide with tips and inspiration on how to use your Tapeffiti™ to customize just about anything. Wrap your pencils, make tape bracelets and fashion accessories, or personalize your notebooks and just about anything. With these fabulous and fashionable patterned tapes the fun and possibilities are endless. This set includes 12 rolls, each filled with 9-feet of different patterned Tapeffiti™ that will stick to just about any surface, 6 mini tape dispensers, a Tapeffiti Design guide with over 24 project ideas, plus a fabulous craft keeper tote to neatly store and carry your supplies.
This can be found where toys and arts and crafts are sold and it has a price of about $9.99 which isn't bad!
Disclosure: I received a Free product for review. My opinions are 100% mine.