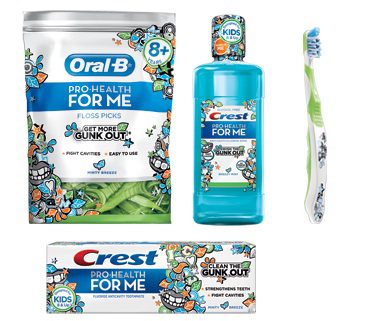 Product Name: Crest and Oral-B Pro-Health FOR ME

Product Information: Getting children to take care of their teeth can be hard enough on a daily basis, but when kids come home after their trick-or-treat adventures, their oral health can become a parent's nightmare.
The best products for kids to use to keep their teeth clean all year, whether it's Oral-B Stages (ages 0-7) or Crest and Oral-B Pro-Health FOR ME (ages 8+)
Crest and Oral-B Pro-Health FOR ME is the first complete line of oral care products for tweens (kids 8+) created to protect all the areas dentists check in kids including fighting cavities, strengthening teeth enamel and freshening their breath.
Parents want to help their kids establish healthy routines, however at this sate in development, tweens have their own tastes and tastes and it can be difficult at times for parents and their kids to see eye-to-eye.  Pro-Health FOR ME provides trusted oral care products that tweens will want to use, with the oral care benefits moms want for their kids.  With Pro-Health FOR ME, there's finally something you can both agree on!
The Pro-Health FOR ME line includes toothbrushes that are just the right size for older kids' mouths, toothpaste and rinse flavors designed for tweens and floss picks that are easy to use – all in unique packaging that's cool enough for tweens!
Oral-B Pro-Health FOR ME CrossAction Toothbrush
Features a combination of CrissCross bristles and a Power Tip to effectively reach and clean between sensitive gaps kids' 8-12 experience.
The handle is similar to an adult handle, but sized to optimally fit a tween's hand for comfort and control.
Soft bristles for a gentle clean
Comes in blue, green and pink
Retails for $3.99
Crest Pro-Health FOR ME Fluoride Anticavity Toothpaste
Unique appearance chosen by tweens to make brushing fun
Tween-approved Minty Breeze flavor
Fights cavities
Cleans teeth to brighten
Freshens breath
Retails for $2.75 – $3.25
Crest Pro-Health FOR ME Anticavity Fluoride Rinse
Kid-approved Breezy Mint and Breezy Berry Bubblegum flavors
Helps fight cavities for healthy teeth
Reaches areas where your child may have missed brushing
Freshens breath without the burn of alcohol
Retails for $4.59
Oral-B Pro-Health FOR ME Floss Picks
Easy to use and less messy for more complete  clean vs. brushing alone
Minty Breeze flavor and tween-inspired color
Retails for $2.49
My Thoughts:  Getting my girls to brush their teeth is an ongoing battle in my house.  We even discuss it with the dentist but it doesn't matter, they always have an excuse as to why they can't do it.  And I remember doing the same thing to my parents.  Now I crave to brush my teeth sometimes and can't leave the bathroom in the morning without doing it.
So when we get some new products for review, I use that as an opportunity to get them back into 'enjoying' brushing their teeth.  It works every time and some times it lasts longer than other times.
My oldest is going to be 8 next month (wow I can NOT believe that!).  Since these products are recommended for children 8+ I knew she'd enjoy them because she'd feels special, which she did feel!  She was excited that her little sister couldn't use them, just her.  We talked about the products and why there were made for someone her age and we also discussed the packaging. She loved the box and thought it was pretty cool and told me it looked like something for a teenager.  That was a good time to discuss with her that she is pretty much considered a tween and what that meant.
She was excited to try the products because she recently discovered she prefers a mint toothpaste and she actually enjoys mint candy.  So I gave her all the products and she has been using them for the past few nights and loves it.  She likes how clean and fresh her mouth feels afterwards from all the mint.  She told me it was like a breeze went through her mouth (seriously, I can't make this stuff up!).  She especially liked the Floss Picks and I did as well. They glided between her teeth so easily and I tried them myself and loved how nicely they slide between my teeth too.  I will probably use them as much as she does!
She was excited to have products that weren't for her little sister and not for mom and dad.  It made her feel special.  I'm just happy because it's made her look forward to brushing her teeth – at least it has for the past few days!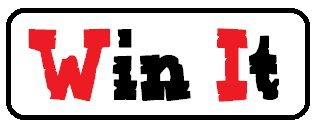 (1) Koupon Karen reader will win some Crest and Oral-B Pro-Health FOR ME products.
To enter the giveaway, use the rafflecopter widget below. You can now sign in with Facebook and it will remember you each time you enter another rafflecopter giveaway. Of course Facebook is in no way associated with this giveaway, the people of rafflecopter just want to make it easier for you to enter giveaways now.
As a reminder, comments left on Facebook or Twitter will not be included.
Disclosure: I received a Free product for review. My opinions are 100% mine.