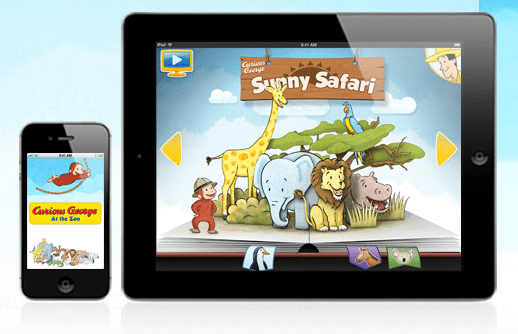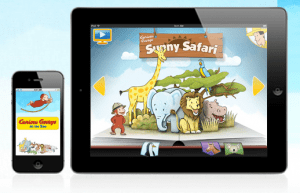 Product Name: Curious George® Explores the Australian Outback, on the iPad and iPhone
Product Information: With Over One Million Downloads, Educational App Curious George at the Zoo Launches New Habitats for Users to Explore
Global education leader Houghton Mifflin Harcourt (HMH) has expanded its popular Curious George® at the Zoo mobile app with a fourth animal habitat – the Australian Outback – which delivers new challenges designed to build invaluable reasoning and critical thinking skills. The educational app, which provides a fun learning experience for children from ages two to six, has now been downloaded more than one million times since its launch in May 2012. The app is available for FREE through the end of the month, with additional habitats available for purchase for $0.99 each.
The Outback habitat introduces players to the native animals of Australia, including the kangaroo, koala, wombat and emu, through interactions and games intended to build memory and motor skills. Children learn process and order as they clean and feed the animals and engage with mini-videos and stories within the virtual zoo. The Australian Outback is the fourth habitat available within the app, following Old McDonald's Farm – a traditional farm environment, Deep Freeze – which includes arctic animals like penguins, reindeer and a polar bear, and the original Sunny Safari habitat.
"Encouraging children to engage with educational materials outside the classroom is critical to preparing them for formal education environments by building the basic cognitive skills they need," said Bethlam Forsa, Executive Vice President, Global Product and Content Development, HMH. "Recreational games like Curious George at the Zoo are well-suited for today's tech-savvy generation and a major component of HMH's goal to make learning more fun and engaging."
Curious George at the Zoo aligns with domains in the Head Start Framework, which outlines the developmental building blocks that are most important for continued achievement and school readiness among three to five year olds.
The educational app is the latest offering in the growing collection of Curious George products designed for today's digital learners. With a number of exciting new products in the pipeline for the remainder of the year, HMH combines this treasured brand with trusted educational content to help parents and teachers stimulate curiosity and encourage exploratory learning at home, in the classroom, or on the go.
Curious George® at the Zoo for the iPhone®, iPad® and iPod touch® is available for $0.99. Deep Freeze, Old McDonald's Farm and The Australian Outback are available for an in-app purchase of $0.99 each. For more information, please visit hmhco.com/curiousgeorge.
My Thoughts: I love Curious George.  I always have since I was a kid.  I vividly remember hearing and reading his stories and I was so excited to introduce him to my girls a while back.   They are fans too and used to watch the show on PBS in the morning before school.    They were very excited when we received our prize pack filled with all sorts of Curious George Goodies.
Their favorite thing was by far the Deluxe book and CD gift Set.  We've listed to them a few times while in the car, the love stories in the car.  My little one is starting to learn to read so she tries really hard to follow along in the book and pick up on some of the words.  But it sometimes moves along a little too fast for her, but she keeps trying.  Such a fun way to learn to read with out even realizing it.
The Book and CD set comes with 5 CD's and a HUGE Story book with all the stories that are on the CD's.  I love that it's in one book so they don't misplace them.  The CD's come in a sleeve that makes it easy for storing.
Another fun part of the prize pack was the Travel Activity Kit which also included a CD with a book as well.  But this kit comes with stickers, crayons and activity book and also a card game.   We are putting this one aside for the next trip we take to Nana's house!
We also received a box set of board books.  The girls are going to share this with our friends son who is only 2 and will really enjoy them being board books.  And he's the perfect age to start 'reading' about George!
My Kindergartener was super excited to see the Kindergarten Math and Kindergarten reading booklets – Learning with Curious George – these surely make learning fun!
And the other things included in the prize pack were some crafts and some books.  I put those away for a rainy day!
But another thing we got to play with was the Curious George app At The Zoo along with a few of the in app products – Deep Freeze, Old McDonald's Farm and The Australian Outback.  My 5 year old LOVED it!
I think I will always love George and the man in the yellow hat!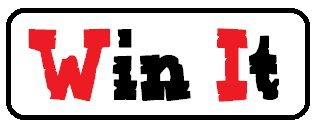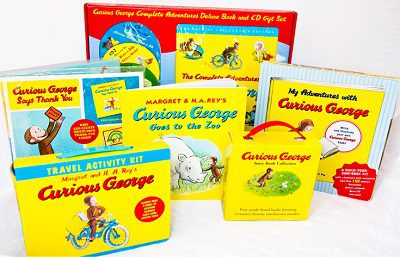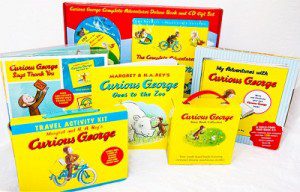 (1) Koupon Karen reader will win an awesome Curious George prize package including the items below:
Curious George Goes to the Zoo
Complete Adventures of Curious George Deluxe Book and CD Gift Set
Curious George Travel Activity Kit
Curious George Storybook Collection
Curious George Build Your Own Book Kit
Curious George Says Thank You Gift Set
Curious George Stickers
Learning with Curious George Kindergarten Reading Workbook
To enter the giveaway, use the rafflecopter widget below. You can now sign in with Facebook and it will remember you each time you enter another rafflecopter giveaway. Of course Facebook is in no way associated with this giveaway, the people of rafflecopter just want to make it easier for you to enter giveaways now.
As a reminder, comments left on Facebook or Twitter will not be included.
Disclosure: I received the same prize as the winner for review. My opinions are 100% mine.